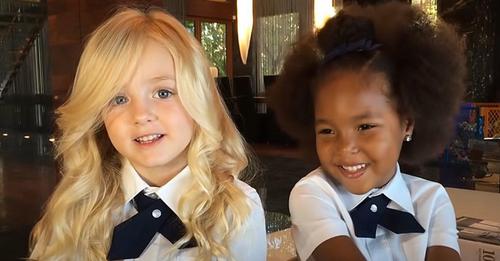 Every now and then, we come across a story that is incredibly endearing and heartwarming. Jia Sarnicola and Zuri Copeland are two young girls with different skin colors who refuse to believe they're not twins. Their sisterhood might just be the story the world needs right now.
Both Jia and Zuri seem entirely confident that they are twin sisters, and no one can tell them otherwise. In fact, the girls have gone viral multiple times, purely for their innocent and pure-hearted explanations of how they see each other.
Truthfully, the girls are neighbors, not sisters. Upon seeing the girls, adults may instantly have cause to doubt the girls' claim of sisterhood, as the two are clearly two entirely different races.
However, that line of thinking does not occur to the 9-year-olds at all, as everything they see in one another points toward the apparent fact that the two are true soulmates, as they also call themselves.
Born only a few days apart from one another, the girls are inseparable. The bond of friendship between these two girls is so great there's no one who can rightfully point out that it's anything but a sisterhood.
As Jia's mother, Ashley Sarnicola, told CBS News in an interview, "They will tell you that they are twins and they have a long list of reasons why to back it up."
The girls' families have embraced their closeness, going so far as to go on family vacations together. In reality, the parents know the two girls will eventually have to face a reality in which they are not actually twins; however, the parents see no reason to shake that worldview right now.
Unfortunately, the girls have already gotten a taste of what society might say but have given the perfect response.
Be sure to reach the end of this article to see the full video 🙂
Jia and Zuri have proven that sisterhood can come from more than just being related, and their moms are happy to see them love each other so wholeheartedly.
"I think that's one of the nice things about growing up in a multicultural, melting pot city," Ashley said. "They don't see color. We've never talked to them about it, period." The mom added:
"They're both little Geminis. They have very strong personalities and are both super outgoing, well-spoken, intelligent, and not afraid to tell you what they want. They hit it off right away."
Zuri's mom, Valencia Copeland, agreed and said, "It is unbelievable. They connected very well immediately. It was amazing how they've gelled together."
The girls first went viral at just 4 years old after a peer pointed out they could not be twins due to their differing skin colors. In response, Jia offered just about the most innocent comeback one could think of, stating, "You don't know anything, we are twins because we have the same birthday and the same soul."
As both Zuri and Jia stated, the list for their twin-soulmate status is nearly endless. They're nearly the same height, wear the same clothes, argue like sisters, have their own handshake and friendship song, and feel like twins in their souls.
The girls have a joint Instagram account where they share photos and videos of their friendship. They celebrated their 9th birthday together in June 2022. They have also been referred to as "soul twins." A heartwarming series of photos showed the girls smiling together with the caption:
"TRUE Friendship and kindness will Forever stand the test of time!"
We can't wait to see their friendship continue to blossom!