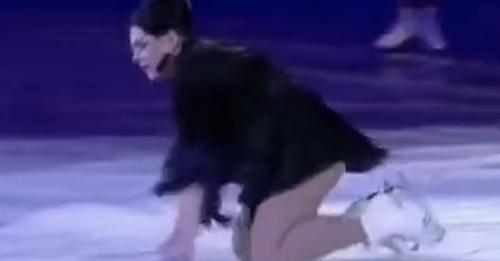 At the inaugural celebration of the European Figure Skating Championships in Finland, history was made when the world's first transgender figure skater, Minna-Maaria Antikainen (formerly known as Markku-Pekka Antikainen), took center stage. However, their debut performance on an international level was marred by a spectacular fall – one that will be remembered for years to come.
Antikainen is an extraordinary skater. Not simply because they are the world's first transgender figure skater to compete in international events, but also due to the fact that they only started skating at the ripe age of forty-nine years! This makes them an unconventional late entrant into the competitive arena of ice sports.
During the opening ceremony of Finland's Figure Skating Association, transgender skater Ani Antikainen was given the extraordinary honor to perform a solo act as a show of support for diversity and inclusivity. However, their international skating debut didn't go quite according to plan – they took an unexpected tumble during their routine – but that hasn't stopped them from operating their farm in Siilinjarvi despite not competing on the ice.
For the past eight years, Antikainen has worked tirelessly to become a well-known trans-figure skater on an international level. During their debut performance for the Finnish Figure Skating Association, however, they were overwhelmed with unexpected apprehension.
Despite a shaky start, the trans figure skater, who identifies as gender-neutral, persevered through her routine to impressively finish off the mark from professional ice skating levels. As she glided along the ice during her performance, she suddenly lost balance and stumbled onto it – but that didn't stop her!
In a matter of seconds, Antikainen's remarkable skating performance on the international figure skating stage was disrupted by an unfortunate fall. But thankfully, they were quickly rescued by a generous female hostess carrying the Finnish flag who helped them recover and get back to their feet to finish what they had started — despite their mistake.
Antikainen spent five hours each week fine-tuning their craft before they made their international debut. In addition, the duo had a track record of success from participating in competitive skating events both domestically and internationally, highlighted by Skating Finland.
The ISU European Figure Skating Championships proudly centered their opening ceremony on the theme of "Just be you." To emphasize their dedication to diversity and inclusion, they graciously included a transgender skater in the event – reinforcing that everyone is welcome on the ice!