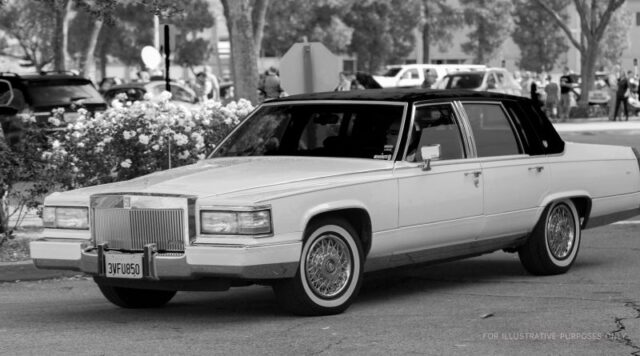 When a woman gets a golden chance to get rid of her late dad's vintage car she was always ashamed of, she finds something terrifying in it that changes her mind.
On a pleasant Monday morning, as shafts of sunbeams pierced through the fluffy clouds, Jonathan, 51, was humming Elvis's It's Only Love playing on his Cadillac Seville's stereo. His daughter, Brittany, 17, was sitting beside him, frowning and worried if her classmates would notice her coming to school in her dad's old car.
How hard she prayed for it not to break down in the middle of the road! Brittany kept kicking the legroom, lowering herself, and pretending to pick up something whenever her friends passed by in their cool cars and motorcycles.
For Jonathan, this car symbolized his pride. It was his first love, a gem passed on from his late father in the 70s. But for Brittany, it was a sheer embarrassment, and she hated it whenever her dad drove her to school in that car.
All she waited for was just one chance to get rid of it…
"Daddy, why don't you sell this old garbage on wheels and get a new car?? Come on, daddy, we are in the 90s, and cool new models are coming up!"
Jonathan had always known Brittany's hate for his car. But he was not ready to give it up, no matter what.
"Brit, darling, this was your grandpa's gift on my thirtieth birthday. It was my love at first sight. Come on, sweetie, I'm sure you'll love this beauty one day. She's a classic beast… just look at her!"
"You want me to love this JUNK??! No way, dad! My friend, Peter's dad, has a cooler car, and I love that. Every time this junk breaks down in the middle of nowhere, we have to get it towed. It makes that annoying noise every time you pull over and takes ages to start. This car suits you better as your first love, not mine, sorry! Haaa… I'm getting late. See ya!"
As Brittany stepped down from the car, pretending nobody was watching, a roar of laughter startled her from behind.
Love and respect your parents, and do not be ashamed of them. You will only know their value when they are gone.
"Hey, look! Old daddy, old car!!" some boys laughed.
"Yuk! Yuk! Jeez, man, these cars are still in use… Yuk! Yuk!"
Jonathan furiously stepped down and told the boys off. He just hated it whenever people poked fun at his treasured car.
"Hey, champs, your daddies will know better about this gem. Why don't y'all get a life and focus on your grades instead?"
Jonathan's straightforwardness and love for his car humiliated Britanny more.
"Daddy, stop. They are my classmates," she embarrassingly whispered, clutching her dad's hand tight and forcing him to get into his car and leave. She was overly ashamed and waited until evening to convince Jonathan to sell off his car.
Later, when Jonathan arrived back to pick Brittany up, he was told she'd already left. He was shocked and immediately drove home.
"Jesus! Brit, I was waiting for you outside school. When did you come home?"
Brittany pursed her lips and frowned. "My friend Peter dropped me home in his brand new car. Come on, daddy, you cannot expect me to always come home in your old metallic junk of a vehicle."
Jonathan was hurt, and as he walked away grinning, Brittany showed him a catalog and started pestering him to buy a new car and get rid of his Cadillac.
"Daddy, we have to change with time. Nobody's using such cars nowadays. You'd find a ton of them in car graveyards. Please get a new car and sell this off, daddy."
"NEVER! THAT'S NEVER GONNA HAPPEN! NOT UNTIL MY HEART STOPS BEATING, DO YOU HEAR ME??" Jonathan fumed.
"This is not just a car; it's a treasure cove of memories. I proposed to your mother in this car. I took you to Disneyland in this car. So many memories, darling… just so many of them."
At this point, Jonathan could not hold back his tears and stormed out to pat his car. He didn't consider it a material possession but an embodiment of his memories and love.
Sometimes, when he felt low and sad, he took long solo drives to the woods and just talked to his car as though it were a living being. How deeply Jonathan loved that thing!
Several years passed, and Jonathan's health began to deteriorate at the dawn of the new millennium. He died a few months later, bequeathing his estate to his daughter. Brittany also inherited his treasured car, and in his last letter, he had explicitly asked her not to sell it at any cost.
"Sweetheart, this car may be old and out of fashion, but it brings home more than just memories of road trips. It's my first love, and it carries all my sweet memories on wheels. Please don't get rid of it. Keep it as long as you live and pass it on to your children and their children. Love, Daddy."
Brittany smirked and vaguely looked at the car. She parked it in the garage and forgot about it. One day, she just happened to bring it out to help her with an emergency, knowing little about what was coming her way.
"Gosh, I'm running late to work. I cannot afford to miss my meeting with that client. Damn, this car takes ages to start," as she banged the steering with rage and stepped on the gas, the Cadillac started. "Jesus, thank you!!"
Brittany drove to her office, and as she sped past the lane, she made heads turn. It had been quite a long time since anybody had seen such a classic car on the streets.
That evening, a collector of vintage cars approached Brittany after spotting her in the Cadillac outside a mall.
"Hey, there! I'm Felix, and I love collecting old cars. We are conducting an auto expo in the city, and I'd love to know if you're willing to sell this car. It could easily fetch you a fortune. What do ya think?"
The smell of fresh banknotes haunted Brittany's mind. She had no idea that the car she'd always wanted to get rid of was worth a fortune. Brittany immediately agreed and asked Felix to meet her at the address on her visiting card over the weekend to negotiate the deal.
"Finally!! I can get rid of dad's old car and get a new one with that money," she exclaimed in joy as she drove back home and began cleaning it.
"Golly! This thing still works!!" she gasped as she tuned into a retro hit on the car's stereo.
'Asked a girl what she wanted to be, she said, "Baby, can't you see?" … Drive My Car…' The Beatles classic mixed in perfectly with the smokiness of the BBQ in the backyard as Brittany cleaned every nook and cranny of the car.
"Oh, gosh, I missed the glove box!" Just as she opened it, a pile of old photos plopped out. "What are these?!" she wondered as she scooped them up and froze still after seeing each of them.
Beads of tears rained down Brittany's eyes when she saw those were pictures of her when she was little with her dad and her late mom, Emily. These were the beautiful memories Jonathan had always talked and cried about.
"Oh, daddy! How did I forget I was wearing this beautiful white dress when we went to Disneyland when I was four??" Brittany burst into tears. "And this… this was when I started to walk holding your hands… and this… this was when I got baptized… Oh, Daddy, I'm so sorry…"
"…Mom, look at your smile. It's beautiful. It's priceless. I'm sorry I forgot about these precious moments in our lives."
Brittany cried for a long time in her car when Dave, her eight-year-old son, approached her with the phone.
"Mommy, you have a call from some Felix. He said he wants to fix an appointment with you for something."
Brittany remembered scheduling a meeting with Felix for that weekend regarding the car sale. She knew the deal could bring a fortune, but she changed her mind and grabbed the phone.
"Mr. Hill, I'm sorry, but I don't want to sell my car."
"Mrs. Brown, please think again. I'll pay you more if you want. I want that car."
"Haaaa… Sorry, Mr. Hill, but this is not just any old car. It's home to my parents' memories of a beautiful life we once lived on the hillside. I'm sorry, but I'm calling off the deal. Have a great day, Mr. Hill. Goodbye!"
Brittany stepped out of the car and stared at it for a long time. At some point, she even hallucinated her late dad was sitting in the driver's seat, smiling at her and waving to hop in for a long drive in the rain to their favorite café.
Two weeks later, Brittany, her husband Shaun, and their kids, Dave and Shelly, embarked on a long road trip to Disneyland in her dad's old, treasured car. She turned the stereo on, and the classic Beatles tune played again.
'Baby, you can drive my car… Yes, I'm gonna be a star… Baby, you can drive my car… And maybe I'll love you,' the happy family of four sang along as they drove past the road by the sea with the setting sun peeking through the orange-tinged sky.
What can we learn from this story?
Do not be a people pleaser and embarrass your parents; the outsiders you please did not spend a second of their lives building yours. Brittany was constantly ashamed of her dad's old car and kept pestering him to sell it. She was only worried about people teasing her but never thought about her dad's sentiments regarding the car.
Love and respect your parents, and do not be ashamed of them. You will only know their value when they are gone. Brittany regretted it when she learned about her late father's sentiments and love for her after finding the old photos in his vintage car she hated.
Share this story with your friends. It might brighten their day and inspire them.