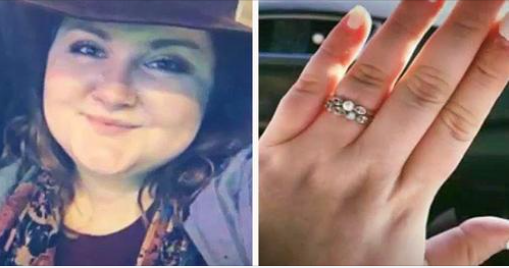 Getting engaged is a momentous occasion. A lot of people love splurging on an expensive ring to show how important it is. On the other hand, some people are more practical.


With high student loans, astronomical rent prices, and an iffy job market, they decide to give a pass to the big bling.
The decision brings its fair share of criticism.
Take Ariel McRae and her husband, Quinn. According to a social media post written by Ariel, the Tennessee couple fell in love hard after meeting online. They had intense phone conversations and decided to meet. Once they did, they both knew their relationship was meant to last.
Since they were only 20 at the time, they decided to get a little more life experience before rushing into marriage. After two years together, the time seemed right. They wanted to make their relationship official. Quinn worked hard to buy a modest set made up cubic zirconia and sterling silver. Ariel didn't mind at all. According to her, the most important thing was marrying her best friend. She loves her rings because of what they symbolize.
Sadly, not everyone was so supportive. While Ariel and Quinn were buying the rings from Pandora, a saleswoman made a snide remark. She called men who buy that set as engagement rings pathetic, obviously not realizing that's exactly what the couple in front of her was doing.
The statement hit Ariel's then-fiance (now husband) hard. It made him feel like a failure. He began to worry that Ariel wouldn't want to get married because he couldn't give her flashy things. She soon set the record straight. Ariel told the saleswoman that the size of the ring doesn't matter. It's the love between two people that counts. They purchased the rings and left the store behind.
Not long after, Ariel and Quinn eloped. When Ariel posted about her experience, it quickly went viral. Pandora itself responded, saying that the couple's experience with the saleswoman was unfortunate and not a reflection of the company's values.
What do you think? Would you be happy with a small engagement ring, or are you hoping for something with a little more oomph? Do you have an engagement story of your own? Let us know in the comments and make sure you pass this along to your friends and family!