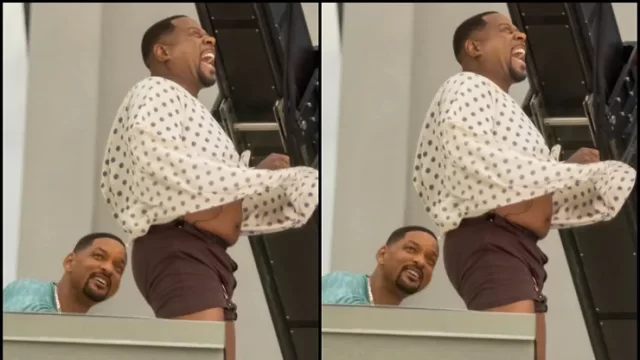 Will Smith and Martin Lawrence have reportedly been observed filming the highly anticipated "Bad Boys 4" in Atlanta, causing fans of the popular "Bad Boys" franchise to become increasingly excited. The charismatic duo will reprise their roles as detectives Mike Lowrey and Marcus Burnett in the action-packed film franchise that has captivated audiences worldwide.
The sighting of Smith and Lawrence on set has prompted excitement and speculation about the fourth installment of the franchise's thrilling adventures. After the global success of "Bad Boys for Life" in 2020, which grossed over $400 million, fans avidly awaited the announcement of a new installment in the beloved buddy police series.
The "Bad Boys" franchise, which debuted in 1995, has become a revered part of the history of action films. Due to the films' combination of high-octane action, witty banter, and the undeniable rapport between Smith and Lawrence, they have attracted a devoted fan base over the years. In "Bad Boys 4", the return of the dynamic duo promises to deliver the same level of exhilaration, humor, and thrilling adventures that fans have come to expect.
In recent years, Atlanta has become a hotspot for major film productions due to its thriving film industry and diverse filming locations. The city's rich architectural background and teeming streets provide the ideal setting for the "Bad Boys" series' high-energy action sequences. Filming in Atlanta contributes to the film's authenticity and energy, enriching the experience for both the cast and the audience.
The return of Will Smith and Martin Lawrence to their iconic roles is evidence of the "Bad Boys" franchise's enduring popularity and the strong connection fans have with these characters. The camaraderie between Smith and Lawrence has been crucial to the success of the series, and their performances have become synonymous with the genre of dynamic buddy cops.
As the cameras roll in Atlanta, fans can't help but speculate about the storyline and the thrilling obstacles that await our beloved detectives. While the plot of "Bad Boys 4" is being kept securely under wraps, audiences can expect a combination of explosive action, hilarious banter, and heart-pounding suspense that will keep them glued to their seats.
With Will Smith and Martin Lawrence's return to the "Bad Boys" franchise, it is evident that the filmmakers are committed to providing fans with an unforgettable experience. Audiences are anxiously anticipating the release of "Bad Boys 4" and the opportunity to rejoin Mike Lowrey and Marcus Burnett in their adrenaline-fueled adventures.
As filming continues in Atlanta, we can only envision the mounting excitement and anticipation on set. In "Bad Boys 4", the return of Will Smith and Martin Lawrence is certain to be a thrill adventure that will leave fans begging for more. If past performance is any indication, the delay for the next installment of the franchise will be well worth it.
The news that Will Smith and Martin Lawrence are filming in Atlanta is tantalizing for fans of the "Bad Boys" franchise. Combined with the city's dynamic backdrop, the charismatic duo's on-screen rapport promises an action-packed and entertaining film that will leave audiences wanting more. Prepare for another wild voyage with Mike and Marcus in "Bad Boys 4."