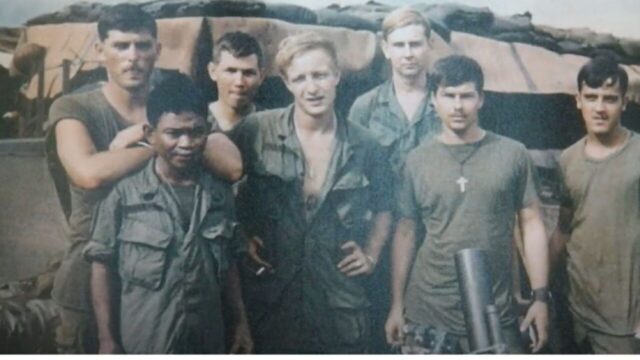 A combat medic and another Vietnam War Veteran he helped save from a grisly helicopter crash had a memorable reunion over fifty years in the making. This emotional moment was made possible by an article in Disabled American Veterans magazine.
A Veteran Story: Vietnam Combat Medic Saves Pilot From Burning Chopper
Combat medics typically don't know the outcome of the injured men and women they treat.
In fast moving and volatile war zones, medics quickly have to tend to the next person so questions are left unanswered.
Often, these combat Veterans are haunted and left wondering what happened. A half a century is a long time to be saddled with those questions.
Combat medic David Chaffin often wondered about a helicopter crash in Sông Bé, Vietnam, on July 15, 1969.
He pulled a pilot with severe injuries out of a burning chopper.
Injured Vietnam Helicopter Pilot Rushed To MASH
That helicopter pilot was Ronald Hope. Unconscious at the time, he was rushed to a Mobile Army Surgical Hospital (MASH) after Chaffin pulled him from the fiery wreckage.
Hope ended up losing his left arm to injuries from the crash.
"It blew me and the 110-pound armor-plated seat out and twisted it," Hope said.
"It crushed all of the nerves in the nerve center of the brachial plexus. I was burned over about 60% of my body. I had third-degree burns on everything on the back. I had both legs were broke. This one was compound comminuted. It had a bone sticking out of it. I was a mess. It was literally a mess."
Chaffin thought he would never know the fate of those on board the helicopter or the pilot he had helped.
While reading Disabled American Veterans, Chaffin found the answers to his questions. The details of a 1969 helicopter crash in Vietnam were eerily similar to what he witnessed.
While the medic's swift action saved the Hope's life, two of the other men aboard the helicopter that he helped later died of their wounds.
Chaffin knew the wounded warrior mentioned in the DAV article must be the pilot he pulled from the fiery crash.
Eighteen months later and in the middle of a pandemic, these two veterans met face to face for the first time since Chaffin saved Hope's life.
After a half century of wondering and waiting, you can see this incredible Vietnam Veteran reunion in the video below.