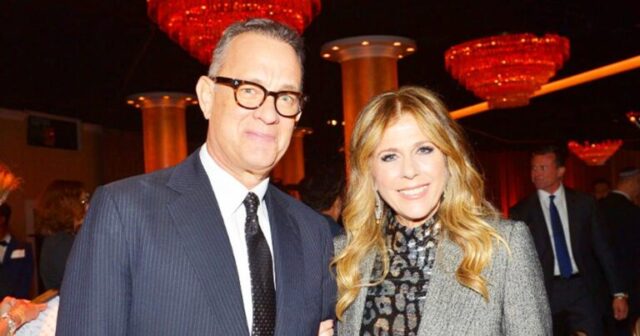 Tom Hanks and Rita Wilson have joined their friend Paul McCartney's campaign to stop eating meat on one day of the week. They shared a joint video on Twitter to talk about their involvement with McCartney's Meat Free Monday movement, now in its 10th year.
Why not try one day a week without meat? Good for the planet and your body. #MeatFreeMonday@PaulMcCartney @StellaMcCartney@maryamccartney pic.twitter.com/UJxROBbrpY

— Rita Wilson (@RitaWilson) June 17, 2019

The Meat Free Monday slogan is "One day a week can make a world of difference," and the idea behind it is to give up meat on Mondays to encourage "people to help slow climate change, conserve precious natural resources and improve their health by having at least one plant-based day each week," according to their website.
Hanks and Wilson sent an adorable happy birthday video to Meat Free Monday and also seconded their mission statement. Hanks said "Doing without meat is good for the planet, and the animals we share it with," while Wilson jumped in and exclaimed that it's also good for our health.
View this post on Instagram
Hanks continued on to say "It's nice to do with less meat those who aren't full-fledged vegans or vegetarians, no meat on Monday, it's actually a simple and easy thing to do." The cute couple ended the video with Hanks saying, "Let's do it honey!" and Rita responding "Let's do it!"
These two megastars aren't the only celebrities that endorse the idea, according to the MFM website, Sir Richard Branson, Emma Thompson, Gwyneth Paltrow, and Woody Harrelson are all proponents of the simple lifestyle change.
Paul McCartney is proud of his project and the fact that it has reached a ten-year milestone. He said in a statement, "They love it, we love it, the planet loves it, everybody loves it, the animals love it. It's Meat Free Monday – happy 10 years!"
What do you think about the Meat Free Monday movement? Will you think about joining Tom Hanks and Rita Wilson? Tell us if you're going to join the fun or not and check out the MFM website for more info.