Toby Keith recently surprised patrons at a steakhouse in Kentucky with a special impromptu performance.
The surprise act marked the first time Keith performed in front of an audience since revealing he had been diagnosed with stomach cancer in the fall of 2021.
The country music star, who was in town for the 2022 Breeder's Cup, got up on stage at Jeff Ruby's Steakhouse in Lexington, where he was joined by the owner Jeff Ruby.

Not only did Keith sing several of his own songs, but the two sang a duet of "Sitting on the Dock of the Bay" by Otis Redding.
In June 2022, Keith announced via social media that he had been diagnosed with stomach cancer. He revealed that for the previous six months he had undergone chemotherapy, radiation, and surgery.

"So far, so good. I need time to breathe, recover and relax," he wrote at the time.
"I am looking forward to spending this time with my family. But I will see the fans sooner than later. I can't wait."
Despite his diagnosis he remained in the public eye. He was inducted into the Nashville Songwriters Hall of Fame in November 2021 and played the Heroes Honor Festival at Daytona International Speedway in May 2022.



But following his big announcement he had yet to make any appearances until November 4 at Jeff Ruby's Steakhouse.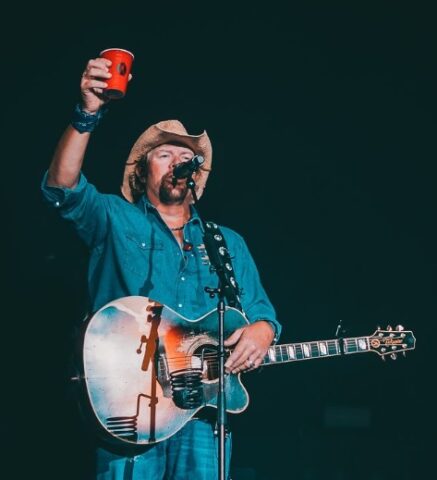 On Tuesday, November 8, Keith was honored in Nashville at the 2022 Country Awards with the BMI Icon Award.
The award is given to songwriters to recognize their "unique and indelible influence on generations of music makers."
Past recipients include Dolly Parton, Loretta Lynn, and Willie Nelson.

It's great to see Toby Keith performing again! I pray that he's in good enough health that someday soon he'll be able to hit the road again.
Please share if you're a fan of Toby Keith.