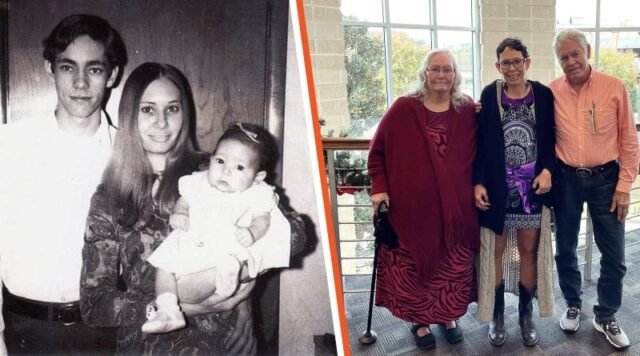 A family's prayers were answered when their decades-long search finally ended. They had been looking for their abducted daughter for years, dreaming about the day they would see her again. When it finally happened, nobody could hold back their tears.
Mom Alta Apantenco and dad Jeffrie Highsmith adored their bundle of joy, Melissa Highsmith. Never in their worst nightmares did they imagine she would be stolen from them. However, at just 21 months old, the little girl was abducted.While Alta and Jeffrie had more kids later, they never stopped thinking about Melissa.
They desperately longed to see their precious child again, but as the years passed by, they started to wonder if it would ever happen.
The Shocking and Life-Changing Incident
The parents' world was turned upside down when Melissa went missing from her mom's Texas apartment on August 23, 1971. Alta worked as a waitress in Fort Worth and found a babysitter for her firstborn—little did she know things would go wrong.
Baby Melissa was in Alta's roommate's care when the new babysitter came to pick her up. Nobody could've guessed that would be the last time they saw the little girl.
When Alta realized her child was missing, she went to the police. The roommate informed authorities that the babysitter was a woman wearing a bonnet, sunglasses, and white gloves. More than five decades later, little Melissa still had not been found.
They Never Forgot about Her
Melissa gained new siblings after her disappearance, and while they never had the chance to meet her, they loved her. They also became curious about her case, trying to help find her, but without any luck.
The family doubted whether they would find Melissa, and mom Alta stated: "I thought I would never see her again." Despite this, they celebrated her birthday every year, holding onto what could've been and praying for a miracle.
The father sent his daughter a message on Facebook Messenger, informing her that he had been looking for his child for decades. Melissa thought it was a scam because she had no idea her birth parents were looking for her.
The Anonymous Tip That Changed Everything
After 51 years, Melissa's case was one of the oldest missing persons cases in America. Thankfully, her family finally got the lead they needed to assist them in their search in 2022.
An anonymous person sent a tip to the National Center for Missing and Exploited Children in September. They thought they had spotted Melissa in Charleston, South Carolina, but they were mistaken.
However, the news gained traction and brought new life to Melissa's case. As her story circulated in the headlines, Melissa's siblings also gained a reinvigorated determination to find their sister.
The End of a Decades-Long Search
A DNA test was done via 23AndMe and linked Melissa's kids with her long-lost family. Jeffrie sent Melissa a message on Facebook Messenger, informing her that he had been looking for his child for decades.
Melissa thought it was a scam because she had no idea her birth parents were looking for her. When she asked the person who had raised her for more information, they confirmed it. She was Alta and Jeffrie's child.
The Emotional Reunion
The family was in disbelief after they located Melissa. Her brother, Jeff Highsmith, exclaimed: "God answered my prayers." The reunion came just in time for Thanksgiving weekend, and everyone had much to reflect on.
Their hearts were bursting with gratitude, and Melissa couldn't contain her joy or tears. Alta and Jeffrie were equally emotional, and the father expressed:
"They said, 'dad she's alive,' and I started crying. After 51 years it's so emotional."
The Best Feeling in the World
The parents couldn't believe Melissa had been raised a mere 10 minutes from the place where she was abducted. Amid the countless questions about the past five decades, they were focused on the positive and showered Melissa with love.
It was unexpected for her, but she enjoyed learning about where she came from. Melissa shared that her heart was full of happiness, and she was thinking about changing her current name, Melanie, back to her birth name.
While there is a lot to consider, Melissa is grateful for her new siblings and thrilled to be part of a bigger and very welcoming family. She added:
"It is overwhelming but at the same time it's just the most wonderful feeling in the world."
Very few abducted children find their parents again. Luckily for Melissa, she had the chance to get to know her mom and dad. We wish them many happy years together as they make up for all the lost time and create memories that will last a lifetime.