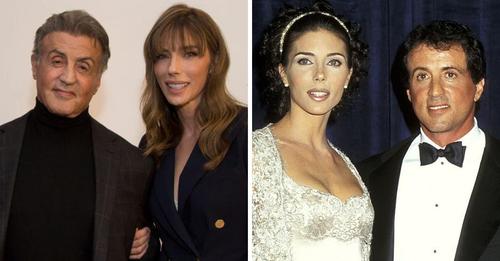 Sylvester Stallone is known for his Hollywood roles and dashing good looks, but his family has also shared some of his famous spotlights along the way. Stallone was born in Hell's Kitchen, Manhattan, on July 6, 1946, to an American astrologer mother and an Italian father who, according to the Guardian, Stallone claimed, "ate raw sparrows and rabbit entrails." "He was a caveman type," Stallone said. "A real character."
According to the Chicago Tribune, during Stallone's birth, the doctor ended up tearing his facial nerve on the left side, which left the infant with a partially paralyzed lip, chin and tongue. That accident would give him the slurred speech and the iconic snarly look fans recognize him for today.
Later on in his 20s, Stallone yearned to find work as an actor in New York, but no matter how many auditions he attended, he was never cast. "Nobody, nobody, would give me a break," he bitterly recalled.
By 1975, with a pregnant wife and only $106 to his name, Stallone was desperate to find work. But with nobody willing to hire him, he took matters into his own hands and, in under four days, he wrote the screenplay for "Rocky." By luck and persistence, the movie was realized and propelled him to stardom.
Since then, Stallone has been through ups and downs in both his career and private life. His relationship with his third wife Jennifer Flavin had a rocky period, but ever since they got married on May 17, 1997, the couple has been inseparable. Let's take a look.
Jennifer Flavin, Sylvester Stallone (1997), (Ron Galella, Ltd./Ron Galella Collection/Getty Images)
Stallone's private life has certainly been eventful. In addition to his career troubles and slow rise to stardom, the action movie star has also been through three marriages over the years. The actor's romantic life was a popular topic in the tabloids, and the media followed him relentlessly and kept tabs on all three marriages of his.
He married his first wife, Sasha Czack, in 1974 at the age of 28. They had two sons together — Sage, who was born in 1976 and died in 2012 from heart disease, and Seargeoh, who was born in 1979 and diagnosed with autism as a child. After 11 years of marriage, the couple divorced in Feb. 1985. Less than a year after his first marriage ended, Stallone married his second wife, famous model Brigitte Nielsen in December of that same year. This marriage, however, didn't last long, and the relationship ended in divorce two years later.
Then in 1997, Stallone finally married former American model Flavin, his longtime on-and-off girlfriend. The couple had originally met in 1988 and already had several ups and downs before their official marriage. After roughly five years of dating, Stallone broke up with Flavin in 1994 via FedEx.
"He sent me a six-page handwritten letter, in pen," she told People at the time. "It was pretty sloppy."
Looking back from a present-day perspective, six handwritten pages almost seem gentlemanly. Of course, back in 1994, people did not break up via text message yet. At the time, Flavin was devasted. Even more so because the rumors at the time said that Stallone had left her because another woman was pregnant by him.
Jennifer Flavin, Sylvester Stallone (2004), (Scott Eells/Getty Images)
In the same interview with People, Flavin stated:
"It hit me like a ton of bricks. I had no idea this was going to happen. We talked about us having children, about when I was going to get pregnant. We were already picking names, marking down names that he liked and I liked."
However, their love was meant to be and Stallone and Flavin reconciled and reunited in 1995 after a DNA test revealed the other woman's child was not his. In May 1997, the couple finally married and they've stayed together ever since. What's more, the couple shares three daughters: Sophia, born in 1996, Sistine, born in 1998 and Scarlet, born in 2002.
In 2017, the three young ladies even shared the title of Miss Golden Globe at that year's ceremony. Sistine told People: "It's so memorable, it's a dream. I think I'm dreaming, someone pinch me. This isn't happening right now." Meanwhile, Scarlet added:
"It feels great, especially because we're doing it with all of us."
Their proud father's reaction was "running around the house, dancing. The dogs were chasing him." Sistine added: "It was a moment … Music, party at the Stallones'. It was so exciting." With his daughters coming into their own as models and actresses, Stallone seems to be an incredibly proud father. He spoke to People in the same interview about the family's home life and the fact he's surrounded by women:
"I basically just keep my mouth shut and don't cause waves. Again, (Flavin's) fantastic, but it's all women. Women rule. Even the dogs, they're female and the one male's been neutered."
Sophia Rose Stallone, Jennifer Flavin, Sylvester Stallone, Scarlet Rose Stallone, Sistine Stallone (2019), (Stefanie Keenan/Getty Images for A Sense of Home)
Stallone's great admiration for women in general and especially his wife is nothing new. The Daily Mail recounted an interview the actor did with The Daily Telegraph where he said he'd "never had more fun" than with his significant other. He also said:
"It took me 19 years to realize she's always right … I realized that women have a knack, at least Jennifer, for making incredibly erudite, wise, smart decisions."
He elaborated, as reported by Yahoo:
"I always leap without looking. She always looks and never leaps. She's incredibly safe. So now finally, I say: 'Honey, you make all the decisions. Done, done, done. I trust you.' I never had that before. Ever."
The actor seems to genuinely appreciate and love his wife and their family, and in contrast to his macho image as an action star, he's proven himself to be a big teddy bear at heart. When asked about his outlook on love, Stallone said in the same interview:
"I consider my life 10 percent on target, and 90 percent mistakes … But those 10 percent counted."
Over the years it's become clear that Stallone is a real family man who puts his loved ones first. Despite the rocky period in their relationship, he and Flavin have proven their relationship is one for the long haul. Every time they celebrate their anniversary, the couple makes sure to publicly give thanks to each other and it's clear that over two decades in, their love is only getting stronger. Here's to many more years of their happy marriage!
Sistine Stallone, Sylvester Stallone, Jennifer Flavin (2019), (Gabriel Olsen/FilmMagic/Getty Images)
Are you a fan of Sylvester Stallone's work? Were you surprised to learn about his admiration for women and especially the love he and his wife Jennifer Flavin share? Let us know and be sure to pass this on to those you know!