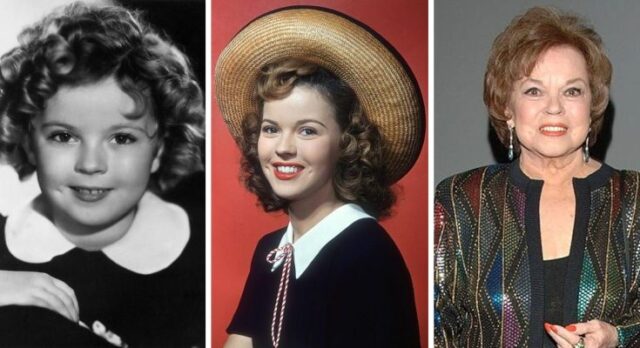 Shirley Temple Black was a childhood star during the 1930s and into the 1940s. She remained an actress until 1965, and then two years later, she began her second career as a US ambassador. Black's third and highest valued job was being a wife to her husband, Charles Black, and a mother to her three kids.
The singer, dancer and actress first appeared on screen in 1931 at the age of 3. When she was 5-years-old, Black shot to international stardom with the film "Bright Eyes." In 1935, she was given the Juvenile Academy Award for her contributions as a young performer. Some of Black's other popular films from this time in her life include "Curly Top." "The Littlest Rebel" and "Heidi."
When she was 15, the star met Army Sergeant John Agar, who married her two years later in 1945 when she was 17. In 1948, Black gave birth to their daughter Linda Susan. Later, Agar became an actor, and he starred alongside Black in "Fort Apache" and "Adventure in Baltimore." The couple divorced in 1949, and Black retained custody of their daughter.
A year later, at the age of 21, she met Navy intelligence officer Charles Alden Black, and they quickly fell in love. They married in 1950 and shared two children together, Charles Jr. and Lori. All three of the actress's children speak highly of their mother. She remained married to Charles until his passing in 2005 and passed away herself in 2014 at the age of 85. Read on to hear what Black's children had to say about her.
Black started her career at the age of three and credits her mother for planning her stardom before she even came into the world. She said in 1988:
"My mother kind of planned a blitz. She had two boys, and when I was born, they were 12 and 10 years of age. And she wanted a girl baby, but she was afraid to try again because she might get another boy. So, she suggested to my Dad that he go to the doctor and see what could be done. And the doctor said, well, if you have your tonsils out, this is so ridiculous, but if you have your tonsils out, you'll be able to have a girl child."
The Temple family did have a girl, and they cherished her, according to Black. "They bathed me in love my whole life," she shared.
"My mother was, I think, the most wonderful mother that a girl could have….She had the reign on me, but she knew how to release that reign so that I was able to make judgments of my own, and decisions of my own. And judgments about people. And who I liked, who I didn't like, what I wanted to do. She didn't push, in fact, many times, I think, I pulled her around."
The starlet explained that she had a ton of energy growing up and her mother used singing, dancing, and acting as a way to keep her occupied. Black said, "And I have a granddaughter just like this. My granddaughter doesn't want to take a nap and never has. So I was just busy all day. And she wanted to channel that energy and put me in Miss Meglin's dancing school. And I was a Meglin Kitty."
The actress was very young when she first learned to dance. Black added:
"Mrs. Meglin was quite stern, but she also banked at my father's bank. There was a business relationship, and she said how healthful this dancing exercise would be for a child. And it was. I learned how to dance between 2 and a half and three."
Some may think that children are only playing at that age, but Black was learning multiple types of dance before she was 4-years-old. "We started out with the time step, which is traditional, and I learned the box step, the rumba, the — all kinds of falling. We'd fall in a pile. Shuffle off to Buffalo. All those things," she explained.
By the time she was five, Black had already learned what it takes to act and perform on camera. She recalled:
"That was interesting because there were about 30 little children, all between the ages of three and five in the 'baby burlesques.' And we were told not to look at the floor, to find our marks. They'd put a little piece of tape on the floor, but we weren't supposed to look down. Very unprofessional. So, I devised a scheme, as a little girl, that if I felt the light very warmly on my cheek, and on my shoulder, I would know I was in the right place. And if I felt coolness or shadow, I knew I was in the wrong place. So that was my starlet period."
When asked if she ever wanted to quit performing when she was a child, Black replied: "Oh, never. No, I loved it. I loved it. The book, 'Child Star' is about my love for my mother and my profession. And also a very special teacher I had at the studio.
After she officially retired from acting in 1965, Black began an entirely different career as a US Ambassador to Ghana and the Czech Republic in 1967. Political officer, Kenneth Brill, knew Black when she was working as an ambassador and shared what she was like during that time in her life.
"Shirley Temple was my first ambassador," he said. "She was well-liked in the embassy. She had a very nice way with people and she also let her DCM (Deputy Chief of Mission) Jack Lenahan, who was a very experienced Africanist, run the embassy on a day-to-day basis. There was a very clear line; she was the CEO (chief executive officer), he was the COO (chief operations officer). It seemed to me as a brand new person that the embassy was running well."
The officer also shared that Black was well-liked in Ghana, which was due in part to her international reach as a child star. "In many ways, she was an ideal ambassador for a country like that because she arrived with a very positive persona. People would (say) 'Oh! Shirley Temple!' And she had the skills to use that opening with her direct interlocutors and the larger public when delivering a positive message about the US and U.S.-Ghanaian relations….Her films had a truly global audience and reach. That might not seem remarkable in today's wired world, but her films were made and distributed many decades before the internet."
Brill added:
"She took her work seriously; she was focused on it when she was doing it. When she was in the office she was personable, charming, and she had a smile that literally would light up a room — and she smiled relatively easily. She was not a sour kind of person by any means."
Even though she was internationally known and went on to have a full career as an ambassador after acting, being a mom was the most important role to Black. She always made time for her family and made sure they had a normal upbringing. "We had a lot of parties," her eldest child Linda Susan said.
"We had a lot of fun decorating the dining room."
Black was able to forge close relationships with her children, and they remember her fondly. "Being a wife and mom is the greatest of her achievements," her daughter added. "We were shopping and travel buddies. We went to many places together. She was one of my very best friends."
The singer and dancer could be serious at home, but she also made sure to enjoy her time with her family. "She was devoted and generous, and she could be a little stern if we didn't behave. But she was also a lot of fun. Very inventive and imaginative. She was all about her children and her husband," Linda Susan said.
Black was busy with her career but always made time for her loved ones. In fact, the mother "seemed very normal to us," her son Charles Black Jr. said. "The only time I noticed her star quality was when someone else would ask for her autograph. She was an amazing person."
The mom of three did everything she could to provide for her family despite her busy schedule. "She was wonderful — and normal," Charles Jr. added. "We had dinner at the table every night all together."
In 2021, Black's memory was honored with a Google Doodle on the website's homepage. Her granddaughter, Teresa Caltabiano, partnered with Google to create the image. "If you've seen a Shirley Temple movie, you have in a sense gotten to know who she was as a person," Caltabiano said to Newsweek. "The feisty heroines she played who loved their families and who wanted to make the world a better and happier place was a reflection of her genuine character."
As the granddaughter of a Hollywood legend, what Caltabiano remembers is Black's strength of character. She added, "Growing up, her character was tempered by the Depression and World War II, as was her awareness of the need to serve others. Her brother's MS diagnosis and later her own mastectomy strengthened her conviction that she could have a positive effect, not only in her own family but around the world."
Caltabiano continued, "As a Special Representative to the United Nations, among other responsibilities, she took on the role as an early environmental advocate. As Ambassador to Ghana and later to the Czech Republic, the merging of her talents as a communicator and her gift for service to others gave her great personal satisfaction. Her last diplomatic position as US Chief of Protocol at the White House gave her the honor of welcoming the world to the country she loved."
Caltabiano is the daughter of Linda Susan, and she echoed her mother's sentiments about Black's dedication to her family. She said, "At the heart of everything was her family. We were blessed to know her, her love, her courage, and her strength. She is still deeply loved and truly missed, and we treasure our memories of her."
In 2015, an exhibition of Black's movie costumes, props, dolls, autograph books and more went on display at museums in select cities across the US. The collection of memorabilia was called "Love, Shirley Temple," and culminated with an auction at Little Theater in Kansas City, MO. The star's family said in a statement:
"The legacy of our mother's unique and legendary contribution to screen entertainment is embodied in these lovingly preserved artifacts of a childhood like few others in history. We believe that, just as the celluloid magic of her youth continues to captivate and enrich successive generations, these artifacts should now be shared across the world with collectors, fans and museums as tangible reminders of this child star's irrepressibly joyful and optimistic persona."
The costumes and other memorabilia were carefully preserved by Black's mother until the 1950s, when they were moved to professional storage in the Bay Area. The entire collection meant a great deal to the star. "We talked to her at the end of her life, and she said, 'I really want these beautiful things to be shared,'" a source close to the family said. "'I want people to see them again and love them again.'"
The exhibit has been a wonderful opportunity for the fans and family of Black's to honor her memory. "I remember being approached by this woman who held on to me and told me she had to sleep in curls every night," Charles Jr. said. "We had this person who was our mother, who we knew and loved, and these people who knew her before we did."
Among the collection, there are photographs and letters from some big names in history, including President Franklin D. Roosevelt, Eleanor Roosevelt, Irving Berlin, Marlene Deitrich and Orson Welles. Another special object that was included is a child-sized racing car that was given to Black by her mentor, close friend and co-star Bill Robinson.
The auction was held in August 2015 and featured many iconic outfits from Black's early films, including the red polka dot dress she wore in "Stand Up and Cheer." Stuart Holbrook, the President of Theriault's, an auction house specializing in antique childhood objects, said: "As the leader in the preservation and auction of historic childhood objects, we are pleased to be offering such a personal collection from easily the most iconic youth of the 20th century. As well, to be able to sponsor and share many of the pieces at prominent museums nationwide prior to the auction event is truly a privilege and an honor."
A commemorative hard-cover book was created, which features 500 items from the collection. It served as a keepsake during the exhibition and as a presentation for the auction as well. The book was available for purchase online from Theriault's website.
Linda Susan said the family wishes the collection to "go into the gentle hands of people who will respect and love these costumes and dolls as much as our family has." And she added that the book "will be enjoyed by my grandchildren and by future generations. It's a way to keep her always — shall we say — on the marquee."