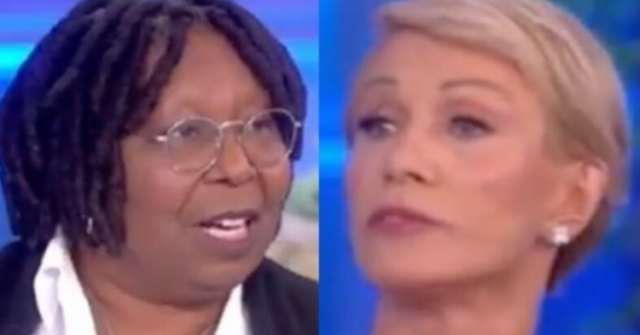 On Wednesday's episode of ABC's The View, Whoopi Goldberg was attacked by the guest of the day.
Shark Tank investor Barbara Corcoran was on the show when she lashed out at Goldberg, making fun of the show's longtime host while on the air. Corcoran's joke did not please everyone, though, because it was a fat joke aimed at shaming Goldberg for being overweight.
After Corcoran made the fat joke at Goldberg's expense, The View co-host Ana Navarro immediately jumped to Goldberg's defense. Without missing a beat, Navarro issued her own criticism of the outfit that Corcoran was wearing on the program that day. Since making the fat joke, Corcoran had issued an apology, but not before cancel culture took its turn putting her through the wringer for fat-shaming the longtime host of The View.
The discussion got started when hosts of The View were speaking to the Shark Tank investor about how the program was going to invite its first Black female guest shark on the program. Because it was making history with the inclusion of Good American founder Emma Grede, the talk show focused on that fact for some time.
The View co-host Sunny Hostin complimented Grede's denim empire. That's when Goldberg replied with a joke, referring to herself, 'Will they fit this COVID (butt)?"
Navarro and Hostin assured Goldberg that she would be able to fit into a pair of Grede's jeans. But Corcoran had to get her own joke into the mix as well. That's when she unleashed the fat joke that upset fans of The View because it was made at Goldberg's expense.
"And when you get finished with those jeans and decide you don't like them, give them to me. I'm gonna make two pairs," Corcoran joked.
Goldberg was appalled by the attempt at humor. She was stricken with silence as the audience came to the realization that Corcoran had just made fun of Goldberg's weight. The audience booed Corcoran for the tasteless joke.
Navarro didn't miss a beat. She swooped right in with her rebuttal that put Corcoran on the defensive.
"Whoopi, let me just tell you something," Navarro said, tearing apart her question cards. "Both Sara Haines and Jill Biden wore that dress already on TV. Donald Trump Jr. tried that on me. It didn't work! No, no, no," Navarro said, referring to how junior recently mocked her weight.
Social media users lashed out at Corcoran for her fat joke at Goldberg's expense.
"'Shark Tank' star Barbara Corcoran fat shames the legendary Whoopi Goldberg on national TV. But don't worry, Whoopi's 'ride or die' Ana Navarro immediately buries Corcoran."
"Did I really just see what I saw on The View? OMG! I'm trying not to be about #CancelCulture, but @BarbaraCorcoran, you pushed it. How unladylike of you to insult @WhoopiGoldberg How undignified!"
"If you come for the Legend Whoopi, Queen Ana is gonna come for YOU! #theview."
"I was just as shocked as Whoopi. I couldn't believe she thought that was funny and not hurtful. Only a narcissist would mock someone's weight while pumping themselves up as too thin to fit them. She should make a public apology to Whoopi and all people dealing with overweight."
Corcoran has apologized to Goldberg and to anyone else she offended.
"I just came back from 'The View' and saw my old friend Whoopi," she said in her apology. "As you well know, she has a phenomenal sense of humor, and I've known Whoopi for years. I made a joke at Whoopi's expense, which I now realize wasn't funny. For anyone who I may have offended unintentionally, I just wanted to say I really am very sorry."