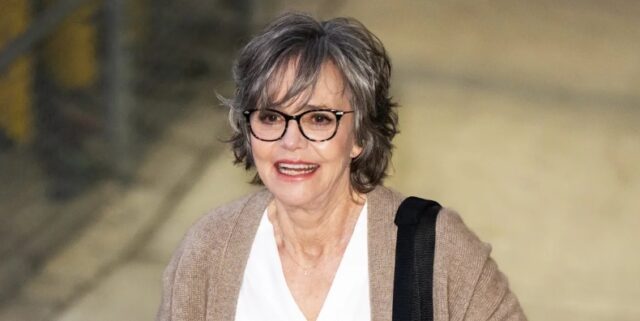 Sally Field won 2023's SAG Life Achievement Award at the age of 76 years!
Having raised three sons as a single mother, she now enjoys time with her grandchildren.
In 2023, Sally Field was set to receive that year's SAG Life Achievement Award at the Screen Actors Guild Awards ceremony. The actress would be the 58th person to receive the accolade, with some of the past people honored, including Helen Mirren, Betty White, Robert De Niro, and more.
Fran Drescher, the SAG-AFTRA president, described Field as an amazing actress with a vast range and the ability to embody any role she played. The guild's president said the star had a career that endured because she had authenticity in her performances.
Sally Field at the Cannes Festival during a presentation of the film "Norma Rae" in May 1979 in France | Source: Getty Images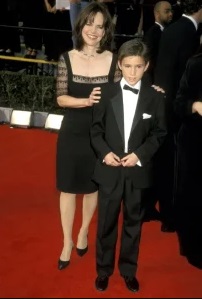 Drescher also noted how the honoree always managed to project humanity and likability. The president believed part of what sustained Field's fan base was her "rich and layered career" before adding:
"Sally is a massive star with a working actor's ethos – just keep doing the work, being as good as you can."
Sally Field seen at "Jimmy Kimmel Live" on January 19, 2023, in Los Angeles, California | Source: Getty Images
While she might have gotten the guild's highest honor for her work, the actress, 76 in 2023, was most committed to her children. They became the focal point of her life after things failed to work out in other areas.
Sally Devoted Her Life to Children after Romantic Failures
In a past interview, Field said, "The three things I'm most proud of in my life are my sons." The Academy Award winner gushed about her children being loving, kind, and productive.
Andrew Rannells, Sally Field, and her son Sam Greisman pose at the DKC/O&M Tony After Party on June 11, 2017, in New York City | Source: Getty Images
The star also revealed that each of the children had their accomplishments and lists of talents. In 1969, the "Smokey and the Bandit" actress became a first-time mother when she welcomed her first son and child, Peter.
At the time, Field was still married to Steven Craig, her first husband. Before the former couple went their separate ways in 1975, they welcomed their second child, another son, Eli, in 1972.
Sally Field and her son Peter Craig during the 8th Annual People's Choice Awards in Santa Monica, California, on March 18, 1982 |
After Steven, the star moved on to her second marriage by going into a union with Alan Greisman. The actress and the film producer completed her childbearing years when they welcomed Samuel in 1987.
Sadly, the "Flying Nun" actress and Alan only stayed married for ten years before divorcing in 1994. After her second marriage failed, Field focused all her energy on raising her children while pursuing her career.
Sally Field and her son Samuel Greisman during the 6th Annual Screen Actors Guild Awards in Los Angeles, California, on March 12, 2000 | Source: Getty Images
Despite the trio being adults in 2023, the star revealed that she didn't desire to make time for dating anymore because her children were her whole "existence." The "Steel Magnolias" actress explained how she wasn't married and wasn't the kind of person who had a separate life from her children, stating:
"That's my family. That's my everything."
Sally Field and her son Eli Craig at the 20th-anniversary gala celebration for The Sundance Institute on April 23, 2002 | Source: Getty Images
In 2020, a source once explained that they wouldn't have been surprised if Field gave love another chance in the future. The insider claimed the "Mrs. Doubtfire" star had met "someone special" whom she wouldn't hide from the public.
In 1998, [Sally] Field became a grandmother for the first time when Peter [Craig] and his first wife, Amy Scattergood, welcomed their daughter, Isabel [Craig].
The source alleged that the actress was a "perpetual optimist" at heart but was also quite content in her skin. Field was fond of praising her sons for being incredible fathers and gushing about their careers in Hollywood.
Sally Field and her son Sam Griesman at the "Monster-In-Law" Los Angeles premiere on April 29, 2005, in Los Angeles, California | Source: Getty Images
When Sam came out as gay, his mother didn't hesitate to show him support. In 2012, she told OWN that it was essential to have a parent who spoke candidly about raising a proud, lovable, funny, magnificent, and sexy gay son!
The actress noted how many parents were afraid of doing what she was doing. Parents who didn't embrace their children as they struggled to embrace who they were and "what nature intended them to be."
Sally Field at the premiere screening of "80 For Brady" at the 34th Annual Palm Springs International Film Festival on January 6, 2023, in Palm Springs, California | Source: Getty Images
Having three sons to love was a big blessing in Field's life, but they gave her something even more special to dote on. The star enjoyed her role as a grandmother to her sons' children.
Now Sally Is a Happy Grandmother of Four
In 1998, Field became a grandmother for the first time when Peter and his first wife, Amy Scattergood, welcomed their daughter, Isabel. The former couple had their second child, another daughter named Sophie, in 2001.
Sally Field, her son Eli Craig, her daughter-in-law Sasha Craig, and grandson Noah Craig at a ceremony honoring her with the 2,524th star on the Hollywood Walk of Fame on May 5, 2014, in Hollywood, California | Source: Getty Images
The "Hot Plastic" author and the former Los Angeles Times editor separated in 2005. While married to his second wife, Jennifer DeFrancisco, Peter gave his mother her first grandson and welcomed his first son when Ogden was born.
Field's son and DeFrancisco married in 2008, but after being together for nine years, they divorced in 2017. In 2006, Eli and his wife, Sasha Craig, made the iconic actress a grandmother of four when Noah was born.
The "Dark Wolf" actress and the "Little Evil" director grew their family once again in 2014 with the addition of Colin. Field spent a significant amount of her time being a loving grandmother to her grandchildren; however, that didn't mean she neglected her children.
The trio would always be Field's biggest priority despite her having a more than five-decade-long career. In 2020, a friend of the actress said she loved having a lot of grandchildren and was described as "fun and goofy with them."