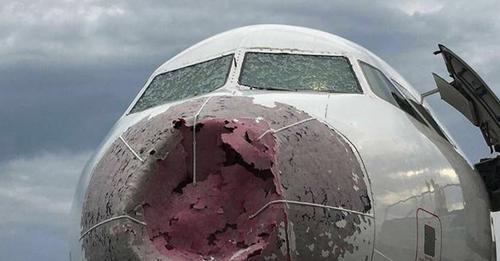 Alaexander Akopov became a hero last week when he blindly landed a commercial aircraft that had been severely damaged by a sudden hailstorm.
The Atlasglobal Airline pilot was transporting 121 passengers and 6 crew members from Istanbul to Ecran, Cyprus when his plane encountered a storm that wasn't picked up by the weather radar.
The hailstones beat the plane's nose to a pulp and shattered the windshield. To make matters worse, the plane's autopilot stopped responding.
While all pilots are trained to fly by instruments alone, few have been forced to use those skills under such dire conditions.
Akopov safely turned the plane around and made an emergency landing at Istanbul's Ataturk Airport. His come country of Ukraine was so impressed, the country's president contacted Akopov to award him the Ukrainian Order of Courage.
Take a look at his incredible landing in the video below.
Like and share this video if you are thankful for pilots like Alaexander Akopov. Please leave a comment on Facebook and let us know what you thought about his landing.