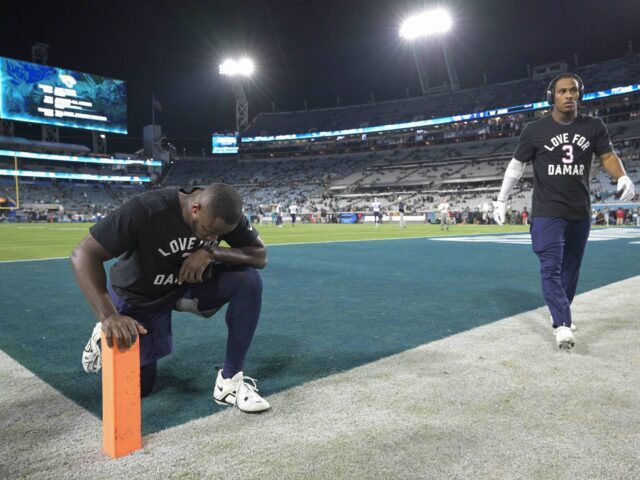 NFL players are "taking a knee" across the nation this weekend — not to protest the national anthem, but to pray for the recovery of Buffalo Bills safety Damar Hamlin, whose heart stopped during a game Monday.
Hamlin went into cardiac arrest after delivering a tackle in the first quarter of a game against the Cincinnati Bengals. He received immediate medical attention and was resuscitated and hospitalized in critical condition.
The entire nation was horrified; the game was canceled. But NFL teams and fans rallied, encouraging each other to "Pray for #3." Hamlin not only survived, but returned to consciousness, asking: "Who won the game?"
By the end of the week, Hamlin was able to communicate to his teammates via video, though he remains in critical condition. Teams are planning to honor him at this week's final regular season games — and to pray.
At Saturday's clash between the Kansas City Chiefs and the Las Vegas Raiders, an announcer declared: "The entire NFL family has been praying for Damar Hamlin of the Buffalo Bills," and asked fans to cheer for him.
The Tennessee Titans and Jacksonville Jaguars gathered at midfield and knelt in prayer together before their game.
The words of prayer and public kneeling recall the protests that rocked the league in recent years.
This time, however, the players are not kneeling to protest against alleged police brutality, or against America itself, but in prayer — and in solidarity with one another, in a gesture of humility and respect for a higher power.
Joel B. Pollak is Senior Editor-at-Large at Breitbart News and the host of Breitbart News Sunday on Sirius XM Patriot on Sunday evenings from 7 p.m. to 10 p.m. ET (4 p.m. to 7 p.m. PT). He is the author of the recent e-book, Neither Free nor Fair: The 2020 U.S. Presidential Election. His recent book, RED NOVEMBER, tells the story of the 2020 Democratic presidential primary from a conservative perspective. He is a winner of the 2018 Robert Novak Journalism Alumni Fellowship. Follow him on Twitter at @joelpollak.