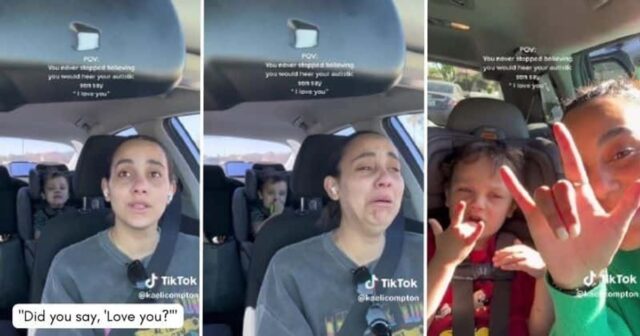 Parents with an autistic child face unique challenges, yet the exhilaration of hearing their child say "I love you" for the first time is a moment all parents eagerly anticipate. In a heartwarming video posted on TikTok by Kaeli Compton (@kaelicompton), Compton and her partner can be seen telling their autistic son, "I love you" on several occasions. Despite him never saying it back, they do not lose hope and continue verbalizing their love for her every chance they get.
On one such occasion, when Compton is in the car with her son and tells him that she loves him, the child finally responds to her by saying, "Love you." She is left completely stunned by his response and breaks down in tears at her son saying the words she'd longed to hear from him for so long.
Towards the end of the video, the mother demonstrates how her child now reacts every time she says "I love you," and the joy on her face is indescribable.
The video is captioned, "You never stopped believing you would hear your autistic son say, 'I love you.'" It has garnered over 9 million views on TikTok and people were moved by this emotional video. @littledetailseverywhere commented, "That clip in the car when he first says it makes me cry happy tears for you every time." @big.meech_wrote, "I am sobbingggg." @officialkjb expressed, "So beautiful."
@julesbella487 shared, "I will never forget the moment my autistic son said 'Mama' for the first time. Words I thought I'd never hear. Melted me into a puddle of happy tears." @bgraves16 commented, "Crying for his amazing progress!! So happy he can communicate in his own way now! He's finding his voice!"
Being the caregiver of a child on the autism spectrum comes with several challenges. However, moments like these make all the difficult times worth it in the end. It also showcases that care and a loving environment prove to be fruitful with autistic children.
View this post on Instagram