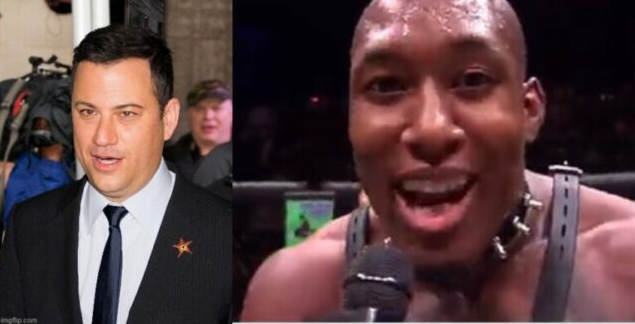 Following a knockout win inside the Octagon at the Fury Fighting Championship, winner Joel Bauman had some choice words to say about Jimmy Kimmel and the rest of his mainstream media cohorts whom Bauman believes are involved in the Jeffrey Epstein case.
This video, which was taken immediately after the fight on August 21st, has resurfaced all over Twitter as calls heighten for the releasing client list of the human trafficker who is since deceased.
UFC fighter Joel Bauman put Hollywood and the mainstream media on notice during a post-fight interview, saying he's going to assume they're all pedophiles until the flight logs of deceased billionaire Jeffrey Epstein (Didn't Kill Himself) are released. pic.twitter.com/kLzpPNNTTZ

— N1W (@No1Waffler) August 22, 2022
"Secondly, Jimmy Kimmel, viral this. I fight to eradicate childhood malnutrition from the planet. And until they release the flight logs, you, the mainstream media, Hollywood, you're all pedophiles to me. Eat d*ck!"
Bauman, 31 years old, is a fighter with seven wins and two losses, who fights in an affiliate organization to the Ultimate Fighting Championship, better known as the UFC. He's had a career that is far from superstardom, but this viral moment may just change that as fans clamor for more Joel Bauman appearances.
Bauman also has a knack for making post-fight comments that stir up the audience and grab the crowd's attention, which is something that fighting promoters love. This quote, shared by the New York Post, is a perfect example of the wild things Bauman will share with an interviewer.
"Last fight I was tired, I was exhausted. I'm about to launch this NFT that's going to change the fight game and I put in 30 all-nighters before that fight, I had herpes before that fight, two outbreaks in the span of a week. I'm here, I'm healthy, let's go."
Among the many takeaways from that quote, I guess the main one is that Bauman is a great entertainer. Also, he may have some serious potential in the fight game, given that he supposedly won a match after a month of herpes-affected insomnia. I wonder what this guy could do with some proper pre-fight regimens, but back to the point.