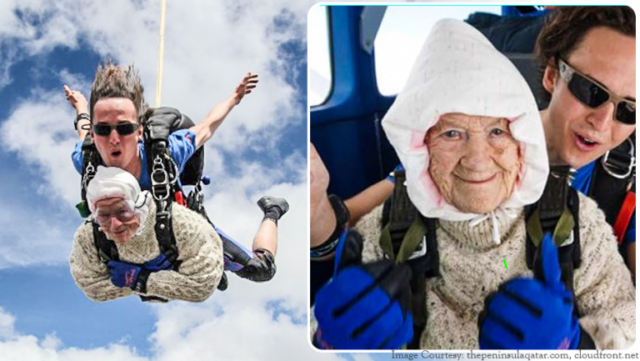 Irene O'Shea is a 102 year-old woman who just showed the world that age really is just a number when she became the oldest person to ever skydive!
SA skydiving confirmed that Irene made the jump last week with Jed Smith, the same instructor she previously jumped with.
"Irene and Jed completed a smooth, beautiful freefall, falling at 220kph [136.7 mph] through wispy clouds, before a smooth parachute opening," SA Skydiving rep Matt Teager, adding that Irene "was an absolute joy to have on the dropzone."
Irene dedicated her jump to her daughter, who died of Motor Neuron Disease (MND). After her death, Irene teamed up with MND Association of South Australia to raise awareness and funds for the cause.
"I lost my daughter to that terrible disease 10 years ago and I miss her," said Irene, who has raised nearly $12,000 for MND.
Video footage shows Irene wearing an off-white cable-knit sweater and a hoodie as she jumps out of the plane with Jed. Matt said that as the unlikely duo jumped, they were able to see the spectacular views of Langhorne Creek, Lake Alexandrina, the Coorong, and the Murray Mouth.
Watch this 102-year-old grandma jump off a plane to raise money for Motor Neuron Disease in Australia #lifegoals pic.twitter.com/TLmwR2UPvb

— Bloomberg Quicktake (@Quicktake) December 10, 2018
Matt said that Irene's grandchildren and great-grandchildren met her on the ground after her "perfectly-smooth landing." Though many would think Irene is an adrenaline junkie, she told reporters after her jump that "as far as I'm concerned I'm the same as everyone else, just a normal person."
With this jump, Irene became the oldest person to skydive, bumping New Jersey resident Kenny Meyer from the top of the list by just 193 days.
"[Her] main wish is to raise as much awareness and money as possible for MNDSA," Matt said. "Irene O'Shea is an inspiring woman, living her life to the fullest with incredible humility."