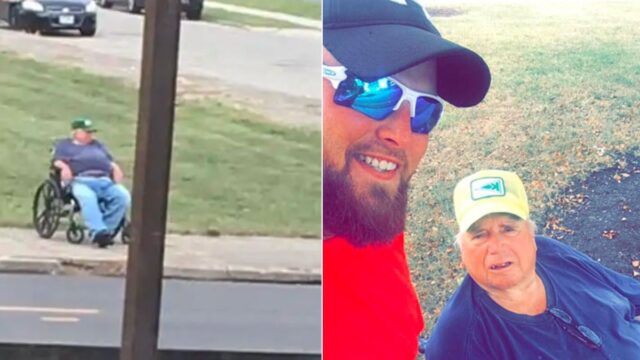 Why was this man getting so much enjoyment out of watching a construction site? Retirement seems like a dream that most of us can't wait to achieve. What we fail to consider is how it will feel to stop doing something we love so much and know so well.
A crane operator learned first hand how important loving his job is when he met a man who was no longer able to work, but who still had valuable lessons to teach.
Every day, rain or shine, he would show up to the jobsite at 7am. He would leave for lunch when Shawn's team did the same, and then only leave for the day when the work wrapped up. After a while, Shawn's curiosity got the best of him and he went over to chat with the man.
Shawn's quick chat with the elderly man turned into an hours-long conversation. He found out that the man was named Harold, and that he had fallen out of touch with his adult children since he'd moved into the care home close to the job site.
Harold had worked for over 50 years as a crane operator and missed his work every day. He was getting serious enjoyment out of watching Shawn do his work every day.
Shawn described their encounter on his social media, writing: "We had a long conversation, 2 and a half hours' worth, but long story short, Harold is nearing the end. His heart valves are clogged, and some disease has been eating at him for years. (I don't know the name of it) and when he was able to work before everything had happened to him health-wise he was a crane operator. He said he enjoys seeing what he used to love to do for a living and never thought he'd ever be able to see or be around a crane again and let alone be so close to see one in action."
Shawn wanted to help Harold make the best of his remaining time on earth, so he asked his new friend what he would like to do.
At first, Harold asked to get onto the payroll of Shawn's company. Shawn let him know that wouldn't be possible, but suggested a great alternative.
Shawn explained: "Our deal is this, Harold ran cranes for over 50 years and no matter how good you think you are at something there's always more to learn. So I told Harold every day after work I'll sit with him for a little bit so he can critique me and judge me on how I did for that day (give him something to talk about that he enjoys) while I also get to learn from him, and in return I would bring him a black coffee every morning for as long as I'm here and buy him lunch twice a week from wherever he chooses…"
Of course, Harold happily accepted Shawn's deal. Over the next few weeks, the two learned a lot and enjoyed each other's company.
Shawn and Harold's connection is a lesson for us all: we all have a purpose. Whether that is our work or helping make someone's remaining days as pleasant as possible– no purpose is better than another. Everyone's contribution is important and can make the world a better place.