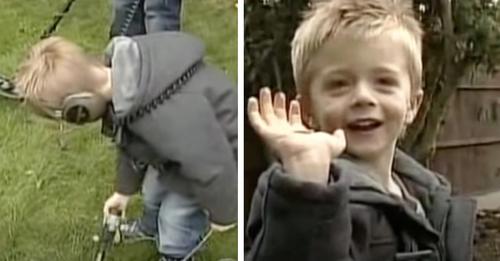 Talk about beginner's luck! A 3-year-old boy named James Hyatt went treasure hunting for the first time and ended up finding, well, a genuine treasure that's over 500 years old!
Little James was out with his father and grandfather using a simple metal detector in Hockley, Essex. After just a few minutes, James' metal detector started making beeping and the little boy almost couldn't contain his excitement. The trio dug about 8 inches into the ground and were startled to find gold metal shining back at them.
This wasn't any ordinary chunk of gold, though, it was an inch long religious reliquary featuring an image of a female saint (possibly St. Helena or the Virgin Mary) crafted in the 16th century and made of approximately 73% gold. You can imagine their surprise! They went from a casual day out in a field to discovering a historical relic estimated to be worth a whopping $4 million.

The pendant Little James found is one of only three similar reliquaries known to exist. The Hyatts decided to sell their amazing find to a museum, promising to share the proceeds with the landowner.
"My son is one of the luckiest people ever," said his father, Jason. "If we go to the doctor he'll put his hand down the side of the sofa and pull out a tenner."
Watch the full news story below to learn about this incredible adventure!