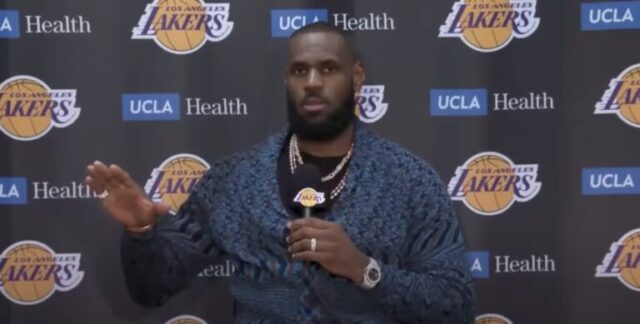 LeBron James has never been afraid to use his basketball fame to promote the political causes he supports, whether that be speaking out against owners for making players stand for the national anthem or saying that Elon Musk may be a massive problem for society after purchasing Twitter.
Now, LeBron is using his platform to admonish the media for, what James thinks is, an unwillingness to talk about wrongdoings by white people and a propensity to focus on those by black athletes.
Here is what James had to say after he dropped 31 points in a game where his Lakers beat the Portland Trail Blazers 128-109.
"I got one question for you guys before you guys leave. I was thinking when I was on my way over here, I was wondering why I haven't gotten a question from you guys about the Jerry Jones photo, but when Kyrie the [Irving] thing was going on, you guys were quick to ask us questions about that."
For anyone who is out of the loop on the "Jerry Jones photo," it is an image from 1957 where the Dallas Cowboys owner Jerry Jones is seen in a crown blocking black students from entering North Little Rock High School at the peak of desegregation. Jones has claimed that he was not at the school with any racist intent.
As for Kyrie Irving, a star player for the NBA's Brooklyn Nets, he has come under fire for the last couple of seasons for his anti-vax stance and some anti-Semitic comments that garnered him a short suspension earlier this season.
LeBron and Kyrie were teammates during James' second stint with the Cleveland Cavaliers and the pair won a championship together. James also has a connection to Jerry Jones, as LeBron was a self-proclaimed fan of the Dallas Cowboys before he renounced his fan-ship over Jerry Jones' national anthem policy, which banned athletes from kneeling.
"When I watch Kyrie talk and he says, 'I know who I am, but I want to keep the same energy when we're talking about my people and the things that we've been through,' and that Jerry Jones photo is one of those moments that our people, Black people, have been through in America.
And I feel like as a Black man, as a Black athlete, as someone with power and a platform, when we do something wrong, or something that people don't agree with, it's on every single tabloid, every single news coverage, it's on the bottom ticker. It's asked about every single day.
But it seems like to me that the whole Jerry Jones situation, photo — and I know it was years and years ago and we all make mistakes, I get it — but it seems like it's just been buried under, like, 'Oh, it happened. OK, we just move on.' And I was just kind of disappointed that I haven't received that question from you guys."
With that, James left the press conference, leaving reporters stunned at what they were just accused of.