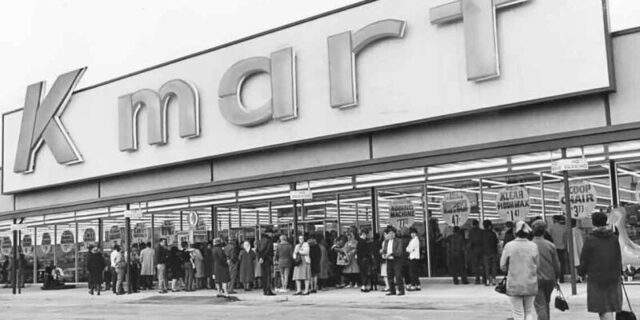 Kmart was born as the S.S Kresge Company in 1899. The company was founded by Sebastian Spurling Kresge. He started his career working with another giant retailer named John McCrory in Memphis, Tennessee.
However, after the partners went separate ways, Kresge became the store's sole owner. Soon, he built several stores in eight cities between Chicago and Pittsburgh.
Kresge's stores expanded steadily from the 1920s to the 1960s. Then, in 1962, retail pioneer Harry Cunningham drove the retailer into the large-scale discount market with the construction of the first full-sized Kmart in Michigan. Two Kmart locations had opened when the first Walmart store opened in Rogers, Arkansas. Harry Cunningham and Sam Walton, founders of Walmart, were inspired by Anne and Hope's store based in Rhode Island.
In 1965, the "Blue light special" was introduced to advertise products on sale at Kmart. "Attention Kmart Shoppers" became the announcement that was heard over the loudspeaker to alert the shoppers. By 1976, S.S. Kresge made history by opening 271 stores in 1 year. It also became the first-ever retailer to launch 17 million square feet of sales space in a single year. In its successful days, Kmart sold products endorsed by various celebrities like Jaclyn Smith & Martha Stewart. In 1977, nearly 95 percent of the S.S Kresge sales were generated by Kmart stores, and soon it changed its name to Kmart Corporation to reflect this.
In 1990, Kmart became the second-largest retailer in the United States behind Sears. However, it was surpassed by Walmart that year as many of the stores needed updating. Soon they went through a makeover and a logo change. Kmart sales peaked in 1992. After that, however, it slowly declined due to tough competition from Walmart & Target. Even the star power of Martha Stewart was unable to help the Kmart sales. Many of its stores underperformed. To combine retail power, Kmart bought Sears in 2005. The stores performed similarly for a decade and reduced in numbers all across the country. However, Kmart was always the favorite for every American.