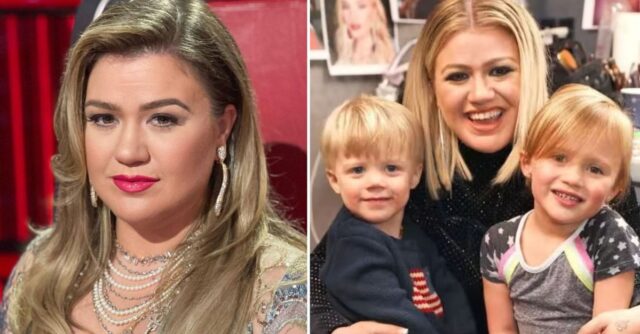 Kelly Clarkson first became a household name in 2002 following her win on the hit competition series "American Idol." Since then, the singer has sold millions of copies of her albums and toured across the world. Some of her most notable hits include "Since U Been Gone," "My Life Would Suck Without You" and "Because Of You." With an incredible vocal tone and range, Clarkson has easily become one of the best and most recognizable pop stars in the US.
Along with being a highly accomplished singer, Clarkson has also appeared in a variety of films and TV shows and has become one of the most beloved women in the entertainment industry due to her hilarious personality and charming wit. She was a judge for another singing competition series called "The Voice" and is even the host of her own talk show, "The Kelly Clarkson Show."
With nearly two decades in the public eye, Clarkson's personal life has been on full display. She famously wed Brandon Blackstock — who happens to be Reba McEntire's former stepson — in 2013. Together they had two children, River, 8, and Remington, 6, as well as two older children from Blackstock's previous marriage.
But sadly, their union didn't last, and in June 2020, Clarkson filed for divorce from Blackstock. Since then, they've endured a bitter battle over child custody and assets. Clarkson was awarded primary custody of their kids, and in October 2021, she also won their $10.4 million Montana ranch, which was a big sticking point in the divorce proceedings.
Back in 2018, Clarkson got people talking when she divulged that she isn't above a good spanking when her kids get out of line. Her comments brought up the question of whether that is acceptable in this day and age. Read on to learn more about Clarkson and her parenting techniques.
Be sure to reach the end of this article to see the full video
Kelly Clarkson (2020), (Steve Granitz/WireImage/Getty Images)
The aftermath of her messy divorce proceedings impacted Clarkson's career – especially her own talk show, "The Kelly Clarkson Show," which was adjusted to accommodate her new demands and requests.
In a conversation with Variety in September 2022, Clarkson opened up about how being a solo parent changed her outlook on work. Per the Emmy-award-winning host, she decided to have the show pushed back 30 minutes later just so she could spend more time with her children and take them to school.
"And then my nanny picks them up. At least I have the mornings with them, and then I have nights with them. I think the most important thing I've learned in therapy, especially through this divorce, is "Don't hide everything from your kids. Obviously, don't talk about stuff that you shouldn't talk about, but it's OK if they see you cry, or it's OK if they see you've had a bad day," she revealed.
Furthermore, Clarkson also confessed to feeling a sense of shame when opening up to her children, but she also made it a point to teach them how to express empathy at the same time. Working in the grueling entertainment industry, Clarkson admitted to facing "mom guilt," even asking for reassurance from her own mother, who went on to affirm that she's doing well.
Clarkson was also grateful that she has the means to tend to her children personally without leaving her career, thanking her "great team" for getting through the tricky process of scheduling.
"Everyone at NBC is amazing, and everybody wants everyone to be successful. It's really helpful to have that type of unity in your environment at work. There are a lot of parents at the talk show and at "The Voice," and at my label. And there are a lot of women," she furthered.