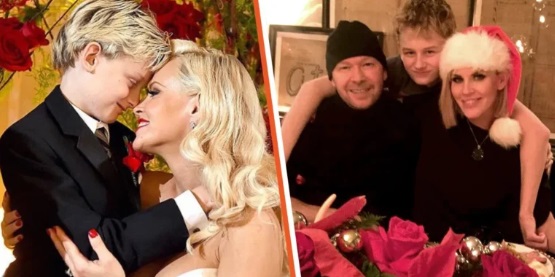 Jenny McCarthy's child with her first husband was diagnosed with autism and this drove the father away. Then she met Donnie Wahlberg, who made her happy and took her son under his wing. The boy helped Donnie propose to Jenny and even walked her down the aisle.
Before Jenny McCarthy tied the knot with Donnie Wahlberg, she was married to director John Asher. The two met on the set of a movie titled "Diamonds" in 1999, and they embarked on a whirlwind romance that saw them getting married the same year.
Not long after the wedding, they welcomed their son, Evan. In 2005, the doting mom discovered that her son had autism; however, the diagnosis was not enough to dampen her potent motherly love for her child.
Speaking about how it started, McCarthy told Oprah Winfrey that it began with "hand flapping," then one day, Evan had a seizure that the doctors said was caused by a fever. Three weeks after, while they were visiting McCarthy's parents, Evan started walking around with a stoned look on his face and foaming at the mouth.
McCarthy quickly realized that her son was having yet another seizure. But it was different because he was not convulsing. She called the authorities, and when the paramedics arrived, the concerned mother warned them about her son's heart stopping. McCarthy said:
"They looked at me like I was crazy. I don't know why."
View this post on Instagram
After checking Evans well, the paramedics concluded that the boy's heart was no longer beating. In response, they performed CPR. Doctors once again wrote it off at the hospital, calling it epilepsy, but McCarthy's instincts did not agree.
After some time, it was revealed that Evan was struggling with autism, and McCarthy's instincts did not contest it. From there, her life changed drastically.
Her Husband Left Her to Care For Their Autistic Child
One of the things the diagnosis affected was McCarthy's relationship with director John Asher. In the early days after she discovered her son's autism, McCarthy gave Evan her undivided attention, and this did not sit well with Asher.
He would get angry because he felt brushed aside by his wife, who was too engrossed in her son to care about his needs. McCarthy kept working hard and taking her son to meet specialists, inquiring about various programs at UCLA.
Eventually, the couple decided to separate, leaving McCarthy to tend to their son, whose medical and care bills she paid for alone. McCarthy's marriage to Asher ended after six years. The divorce papers she served in 2005 cited irreconcilable differences as the cause.
Evan Helped McCarthy's Second Husband
The first time he set eyes on McCarthy in 2012, Donnie Wahlberg caught feelings for her; however, nothing happened between them until a year later when he made her acquaintance on her self-titled show. He asked her out, and they continued to see each other and got closer.
In 2014, Wahlberg proposed to McCarthy with help from her son. In an interview, the loving mom recounted the details of the proposal, including Evan's involvement, saying:
"This weekend, I was sitting with Donnie … and he went into the other room, and out came Evan with a card that said 'Will,' and he handed it to me."
After delivering the card, Evan ran away and returned with another card with the word "You" written on it. McCarthy already knew where it was going, so when Evan returned with another card with the misspelled "Mary" on it, she screamed "yes!" In response, Evan proclaimed that he now had another father, after which the three shared a tender family moment.
Now that he is older, his biological father has decided he has a role to play in his son's life after admitting that he handled the news of the diagnosis terribly.
McCarthy and Wahlberg got married that same year, and it was Evan who walked his mother down the aisle, claiming it was the "most important job at the wedding."
Wahlberg has never regretted marrying McCarthy and praises her every chance he gets. He once referred to her as the "best wife" and the "best stepmom and mother" to their kids. McCarthy is stepmom to his two boys, Xavier and Elijah, whom he shares with his former wife, Kimberly Fey.
A Heartwarming Christmas Gift
Wahlberg and McCarthy have built a very tight bond with each other's kids, which has worked well for them. In an old interview, Wahlberg revealed that they have been able to connect to each other's kids in a way they could not do with their own.
He mentioned how his son was more intellectual than reserved, while Evan is always vocal about his feelings. Because of this, connects with Evan in a different way, while McCarthy can easily have a more mature conversation with his son.
Wahlberg has always enjoyed a good relationship with Evan and treats him like his own child. When Evan clocked 20, Wahlberg used his social media page to wish him a great day, calling him an "awesome stepson." McCarthy also admitted to being thankful for Wahlberg's unconditional love for her and her son.
Evan is older now, and his autism has not hampered his life too much, thanks to his mom, who never gave up on him, and his stepdad, who treated him fairly at all times.
Now that he is older, his biological father has decided he has a role to play in his son's life after admitting that he handled the news of the diagnosis terribly and should have done better as a father. Perhaps he may get closer to Evan with time, but one thing he will never be able to change is what happened with his mother.