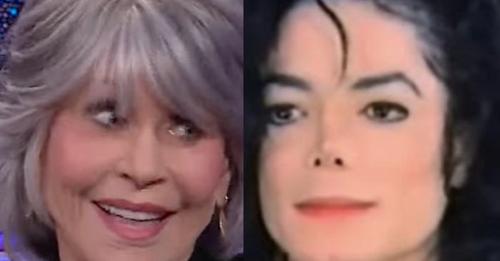 The Hollywood star Jane Fonda is speaking out this week to claim that she once saw Michael Jackson naked back in 1980.
Fonda 'Saw Michael Jackson Naked'
"I saw Michael Jackson naked," Fonda, 85, said while appearing on "Watch What Happens Live!"
When asked by host Andy Cohen where she saw Jackson naked, Fonda replied, "Well he came and visited me when we were shooting On Golden Pond and I had a little cottage right on the lake and it was a beautiful moonlit night."
"And you said let's skinny dip," Cohen replied, with Fonda quickly correcting him by saying, "No he did!"
"I think because he knew he was going to die young and I would talk about him, being naked," she continued. "He was skinny!"
Jane Fonda recalls the time she and late Michael Jackson went skinny-dipping:

"I saw Michael Jackson naked…He came and visited me when we were shooting On Golden Pond and I had a little cottage right on the lake and it was a beautiful moonlit night." pic.twitter.com/jqBPMZ1s65

— Buzzing Pop (@BuzzingPop) May 17, 2023
"I'm not going to ask anything else about it to be respectful of Michael," Cohen responded, putting a stop to the conversation before Fonda could say anything more.
Check out the clip for yourself in the video below.
Fonda Discusses Jackson Visiting Film Set
Daily Mail reported that Fonda has previously opened up about Jackson visiting the set of On Golden Pond, which also starred her father Henry Fonda and Katharine Hepburn and came out in 1981. During a 2018 interview, Fonda said that Jackson "had just made The Wiz and he was interested in learning about movie acting and he asked if he could come and stay with me and watch the shooting between Dad and Katharine."
"And at first Katharine didn't know who he was and she didn't want – she was such a snob, oh, my Lord! 'He's black?!'" she added. "But then she found out he was famous, and so she not only welcomed him, but I would bring him to the set when I wasn't working and she would, between takes, she would bring a chair over and have him sit next to her and she would tell him stories, and embedded in every story was a lesson."
Fonda went on to remember that one day, Hepburn "talked to him about seeing Laurette Taylor when she was a young girl in '[The] Glass Menagerie,' and she described the magic, the raw presence, of this brilliant, probably the most brilliant theater actress ever in America."
"And then she talked about 10 or 15-20 years later, seeing Laurette Taylor in the play again, and the magic was gone, and – because, she said: 'She wasn't hungry anymore. You know? She was all – she wasn't hungry and raw,'" she recalled.
#FlashbackFriday Michael Jackson with Katherine Hepburn – LEGENDS pic.twitter.com/L3OHnXnBwx

— MJJJusticeProject Inc- #MJ Fan Acct (@MJJJusticePrjct) January 15, 2021
Hepburn Mentored Jackson 'For An Entire Week'
Seeing this exchange was something that Fonda has never forgotten.
"What a great thing to say to a young Michael Jackson, who was on the cusp of 'Thriller,' and you know, and: 'You gotta stay hungry. You gotta stay raw. You gotta be willing to go deep, dig deep,'" she explained.
Fonda concluded by saying that Hepburn mentored Jackson "for an entire week," adding, "she would just sit him down and tell him stories that had lessons in them."
"It made a big difference to women office workers. The song became an anthem" @JaneFonda on 9 to 5 #BFIComedy pic.twitter.com/6GxZmtzQt6

— BFI (@BFI) October 23, 2018
Jackson would go on to pass away at only 50 years of age from a cardiac arrest in 2009. He's become a controversial figure in recent years because of allegations that he sexually molested various young boys over the years.
Fonda is seen by many as a controversial figure herself, as she has been known for her radically liberal activism for decades. It's unfortunate that she feels the need to tell stories about Jackson to stay relevant, but in the end, we shouldn't be surprised that Hanoi Jane would do this.