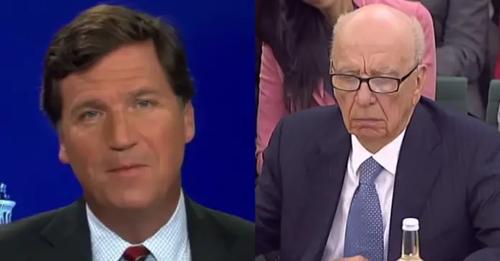 The media landscape experienced a significant shakeup recently, as Fox News reportedly lost half of its audience following the termination of popular host Tucker Carlson. Former Fox News host Megyn Kelly discussed the situation in a recent interview, describing the aftermath as a "bloodbath" for the network.
Tucker Carlson, a conservative commentator and television personality, has been a staple on Fox News for many years. His show, "Tucker Carlson Tonight," consistently brought in high ratings for the network. However, his controversial and polarizing views often made headlines and sparked heated debates both on and off the air.
Good evening pic.twitter.com/SPrsYKWKCE

— Tucker Carlson (@TuckerCarlson) April 27, 2023
Fox News made the decision to terminate Carlson's contract after a series of incidents deemed by the network as crossing the line. While the exact reasons for his firing have not been disclosed, it is believed that the decision was made due to mounting pressure from advertisers and public outcry over some of his more controversial statements.
In a recent interview, Megyn Kelly, a former Fox News host who now runs her own podcast and media company, weighed in on the aftermath of Carlson's firing. She expressed her concerns about the network's future and the impact of losing such a high-profile figure:
"It's a bloodbath. Fox News has lost half their audience after firing Tucker Carlson. It's a huge blow for the network and a sign that they need to seriously reconsider their strategy moving forward."
You can't compare Tucker's Fri night ratings to this week's Mon/Tue. (Fridays in prime are where ratings go to die.) Compare his last Mon/Tue to this week's Mon/Tue. It's a bloodbath: they lost HALF their audience.
Fox News viewership at 8pm ET:
Tucker's finale: 2.65 million
Monday: 2.59 million
Tuesday: 1.70 million
Wednesday: 1.33 million

— Brian Stelter (@brianstelter) April 27, 2023
Since Tucker Carlson's departure, Fox News has experienced a sharp decline in viewership. As one of the most popular conservative voices on television, his absence has left a void that the network is struggling to fill. This has led to increased competition from other conservative media outlets, further fracturing the conservative media landscape.
The firing of Tucker Carlson from Fox News has had a significant impact on the network's ratings and overall viewership. Megyn Kelly's comments highlight the magnitude of this event and the challenges Fox News now faces in a highly competitive media environment. As the network works to rebuild its audience and maintain its influence, it will need to carefully consider its next steps and the voices it chooses to elevate in the future.