Corgis have always been associated with the Royal Family, and especially with the late Queen Elizabeth II.
Like most people with their pets, the late monarch was often brought joy and comfort from her furry companions.
Thankfully, her loving animals stayed with her even in the darkest of hours.

WINDSOR, ENGLAND – FEBRUARY 04: Queen Elizabeth II is joined by one of her dogs, a Dorgi called Candy, as she views a display of memorabilia from her Golden and Platinum Jubilees in the Oak Room at Windsor Castle on February 4, 2022 in Windsor, England. The Queen has since travelled to her Sandringham estate where she traditionally spends the anniversary of her accession to the throne – February 6 – a poignant day as it is the date her father King George VI died in 1952. (Photo by Steve Parsons-WPA Pool/Getty Images)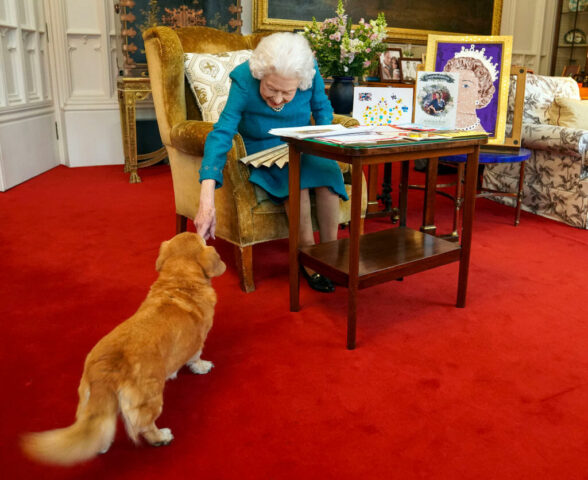 According to ET, the Queen's corgis were even by her side to the end.

The Queen passed at 96 years old on September 8, and her furry friends were close by. Sandy and Muick were given to the Queen as a gift from Prince Andrew, who is now reportedly caring for the dogs along with his daughters Princess Beatrice and Princess Eugenie.
"Queen Elizabeth's beloved corgis were with her in her final hours in her room at Balmoral," a source told ET, explaining the corgis "were there to comfort the queen."

ASCOT, UNITED KINGDOM – OCTOBER 18: (EMBARGOED FOR PUBLICATION IN UK NEWSPAPERS UNTIL 48 HOURS AFTER CREATE DATE AND TIME) Queen Elizabeth II attends the QIPCO British Champions Day at Ascot Racecourse on October 18, 2014 in Ascot, England. (Photo by Max Mumby/Indigo/Getty Images)
In addition to the pair, the Queen also was surrounded by her oldest son King Charles III, her daughter Princess Anne, and Charles' wife Camilla, the Queen Consort.
Unfortunately, some other members of the royal family were not able to get to the late monarch in time to see her before her passing. Prince William and Prince Harry attempted to reach their grandmother in time but were unsuccessful.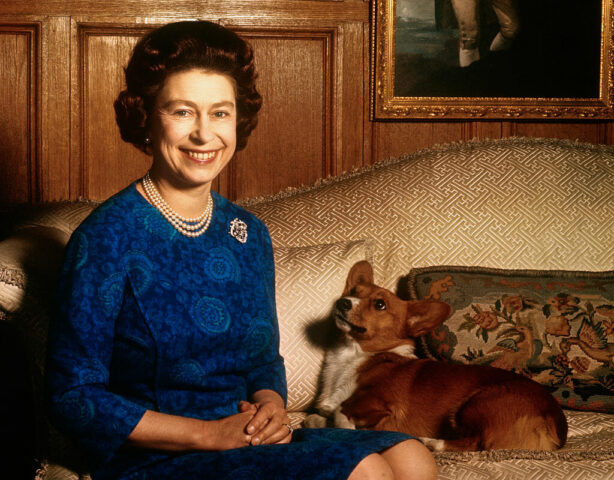 Source: Wikimedia Commons
(Original Caption) Sandringham, Norfolk, England, UK: Britain's Queen Elizabeth II smiles radiantly during a picture-taking session in the salon at Sandringham House. Her pet dog looks up at her. These photos were taken in connection with the royal Family's planned tour of Australia and New Zealand.
The public also witnessed the Queen's loyal companions waiting outside as her coffin passed on its way to Windsor Castle before her burial.
In speaking with Dr. Roger Mugford, an animal psychologist who had worked with Sandy and Muick, ET reports that the expert labelled the moment a "touching one," before explaining that the Queen's final moments were likely fully of joy thanks to the presence of the animals:
"It was so lovely that, in her last couple of years, she had two little corgis and other dogs around her because there's no doubt that any of us, at any stage in our life, but particularly when our life feels like it's declining and stressful… to be able to reach and stroke and be loved by an uncritical admirer, which is a dog, is a great comfort."

WINDSOR, ENGLAND – SEPTEMBER 19: The royal corgis await the cortege on the day of the state funeral and burial of Britain's Queen Elizabeth, at Windsor Castle on September 19, 2022 in Windsor, England. (Photo Peter Nicholls – WPA Pool/Getty Images)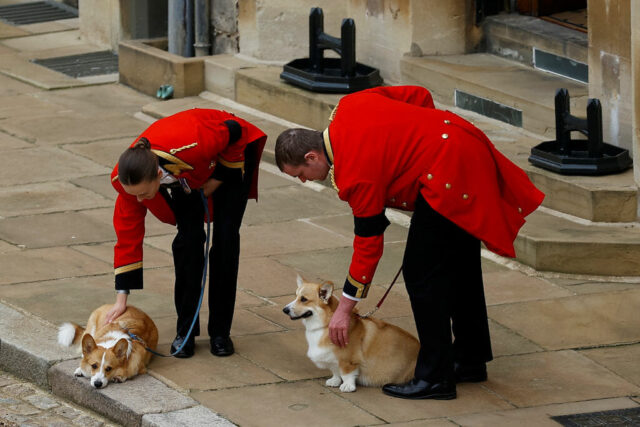 Queen Elizabeth has a long history with corgis. It goes all the way back to 1933, when her father, King George VI, brought home one of the dogs, Dookie, from a local kennel. Soon after, the royal family also welcomed a second corgi, Jane.
Queen started a phenomenon with her corgis
Even though there wasn't social media, or even the internet, at that point in time, people understood that there was something special with the lovely corgi dogs the Queen now had. As reported by tthe BBC, numbers from the Kennel club showed a spike in corgi registrations in 1936, as well as in 1944, when then-Princess Elizabeth got another corgi, named Susan.
Not only did Queen Elizabeth make corgis very popular, but also, they helped her image.
"People – breeders – were servicing the market for a dog that has suddenly become very popular. It's the 101 Dalmatians effect," Ciara Farrell, the Kennel Club's Library and Collections Manager, told BBC.
"You see it with advertising as well – the old English sheepdog on the Dulux advert in the 70s and 80s."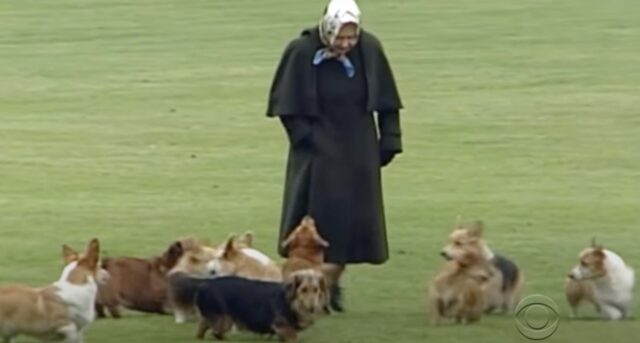 Youtube/ABC News
Princess Elizabeth and Susan were inseparable. The dog – which she got for her 18th birthday – even followed her and Philip on their honeymoon.
Just as the line of succession, Queen Elizabeth went on to form another line of succession, but for her beloved corgies. Susan got a mate in Rozavel Lucky Strike – and tthe line of Windsor corgies continued on for 14 generations.
Special corgi room at Buckingham Palace
It wasn't only Queen Elizabeth and her dog Susan that were inseparable. over the years, Her Majesty took her corgis with her everywhere she went, including in cars, on trains, and even in helicopters. The corgis even had their own special room in the Queen's private apartment at Buckingham Palace.
"There is a special corgi room where they have raised wicker baskets lined with cushions to keep draughts away," royal author Penny Junior wrote in the book All The Queen's Corgis.
She added, "Dogs and horses are her passion and it is with them, and the people who share that passion, that she truly relaxes. Horses are a rich man's game but dogs are not. They are a great leveller, they attract people from all walks of life and, over the years, the Queen has had strong and genuine friendships with many of her fellow dog enthusiasts."
Not only did the corgi's become dear family members for the Queen. Also, they helped others in need as well, and Her Majesty was never shy of offering the help through her beloved dogs.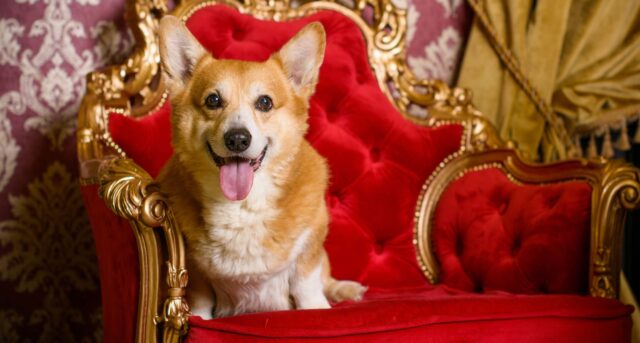 Youtube/ABC News
Surgeon doctor David Nott once described when the Queen had lunch with him at Buckingham Palace, just as he had returned from war-torn Syria. He was unable to speak after getting Post-Traumatic Stress Disorder (PTSD).

Queen's corgis had their own royal menu
But the Queen, with her warm heart, offered some help when she understood something wasn't quite right.
"'Well, shall I help you?'", Nott recalled as Her Majesty called for her dogs.
"All of a sudden the courtiers brought the corgis and the corgis went underneath the table," he added, describing how the Queen opened a packet of treats. "And so for 20 minutes during this lunch the Queen and I fed the dogs. She did it because she knew that I was so seriously traumatised."
Over the course of her life, the Quen had more than 30 corgis, as well as dachshund-corgi mixes known as "dorgis.". Just like the monarch herself, the dogs lived a luxurious life. Not only, as mentioned, did they have their own room at Buckingham Palace.
Also, they had quite the food menu. Former royal chef Darren McGrady revealed to Hello Magazine that the corgis ate chicken, beef, rabbit, and lamb, among other things. The Queen would always feed her dogs herself after she had tea.
"We actually had a royal menu for the dogs," McGrady said "It would be chosen and sent to us in the kitchen every month by Mrs. Fennick, who took care of all the dogs at Sandringham."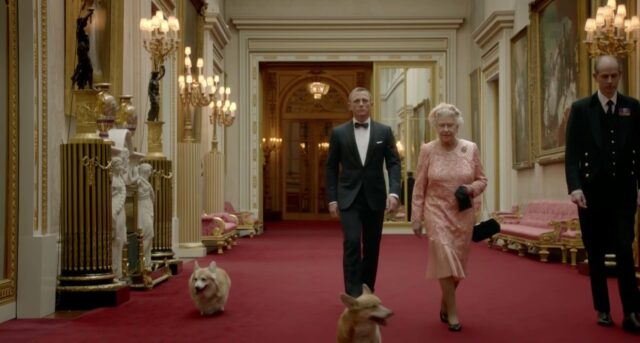 Shutterstock
"The beef would come in, we would cook it, dice it into really fine pieces and then we did same with the chicken. We'd poach them, and again chop them really, really small to make sure there were no bones so the dogs wouldn't choke."
Queen Elizabeth declined puppy offer
during the holiday season, the corgis followed Queen Elizabeth to her Sandringham estate. there, according to the BBC, the dogs had their own stocking, which was filled by Her Majesty herself.
Even though the Queen loved her corgis, it didn't mean she wanted the palace full of them. In 2015, she declined an offer from her granddaughter, Princess Beatrice, of adopting two new puppies.
"The fact is she worries about too many dogs around her feet and the danger she will trip up and hurt herself badly. She is after all 88 and not getting any younger," a senior courtier told Express at the time.
"Her corgis are getting on a bit and move along at a sedate speed but a young dog would obviously be very lively and much more active. Her main fear is that if she fell and broke her arm or even a leg she would not be able to perform her duties for many weeks if not months, and that would upset her greatly."
Youtube/olympics
Queen Elizabeth had a great sense of humor and was often times seen sharing laughs with both her family and people who she met. During the 2012 London Olympic opening ceremony, she appeared in a now legendary alongside James Bond (Daniel Craig). Of course, her corgis also played their part and joined when Here MAjesty and 007 walked down the halls of Buckingham Palace.
Her Majesty's life was dedicated to the people of Britain and the Commonwealth. But nothing beats the love she had for her family and dogs – wh was with her all the way to the end.
We agree with Dr. Mugford! There is no love quite like the limitless love of a beloved pet, and we are so happy to know that her two corgis were there for the Queen's last moments.
Be sure to tell us what you think as well!