Too many animals suffer from living in terrible conditions, kept in cramped, dirty spaces and denied proper treatment for their ailing health.
That was the sad reality for 80 dogs who were kept in a condemned house — until a humane society made an inspiring rescue.



On July 22, the Licking County Humane Society confiscated 80 dogs and puppies from a condemned home in Newark, Ohio, in what the organization called their largest-ever rescue.
According to the Newark Advocate, the dogs were all small breed mixes. They had been living in squalor: the house had one person living in it but lacked running water, and reportedly had many sanitary issues.



The dogs were also suffering from skin conditions, and were infested with fleas. "The officer described it as their skin bleeding in places," Humane Society Executive Director Lori Carlson told the Newark Advocate.
According to a Facebook post, one of the dogs even had a plastic ring around its neck.

It took the humane society hours to evacuate all the dogs from the home, and that was just the beginning.
The dogs will need a lot of medical care before they can be adopted out, and the large size of the rescue meant that the shelter was suddenly overwhelmed. The 80 dogs brought their weekly intake to over 200.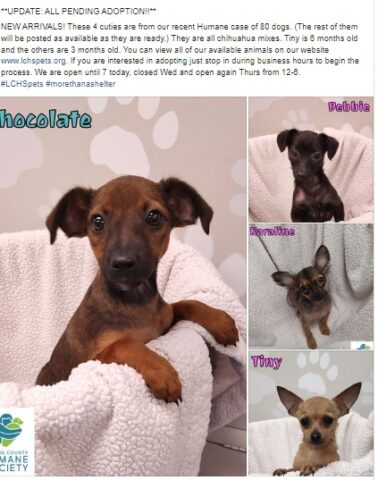 "No matter how new our facility is, we aren't set up to take in a hundred new animals in a week, so we're kind of having to do some shuffling," Carlson told the Advocate.
The humane society says they are relying on a network of foster families and volunteers to help out with the dogs.

And the most important thing is that these dogs are finally safe, receiving the love and care they have been denied for so long.
"Today is the start of a LONG process for these dear souls…but also the start of a new life," the Licking County Humane Society wrote on Facebook. "A life that will now be full of love, care, attention, and safety."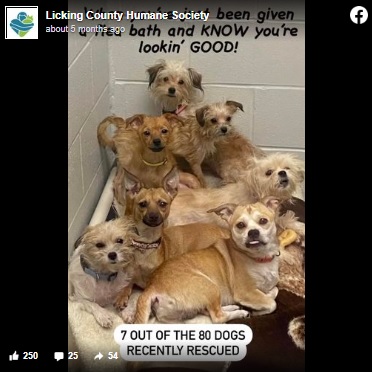 And even better news: some of the dogs are already up for adoption. On July 26, the shelter announced that four Chihuahua mixes who were among the 80 rescued dogs are now looking for homes.
It's heartbreaking to think what these dogs went through, but we're so glad that they're finally safe! Hope they all recover and find their forever homes soon!
Share this great news!