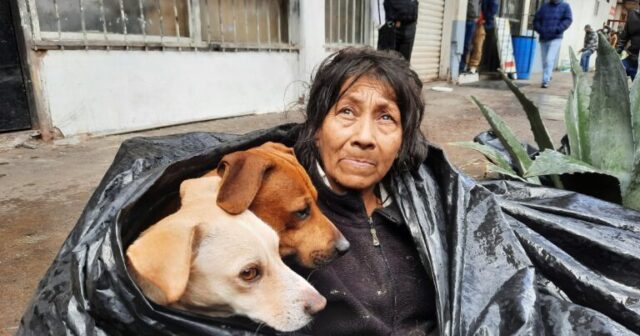 Dogs are the best friends and most loyal pets you can ask for. People from all walks of life rely on their companionship every day, from millionaires to people living on the street.
As loyal as dogs are to us, humans often repay the kindness… like one woman who despite having nothing always still put her dogs first. And when her moving story went viral, a kind stranger came to her aid.
Last month, photographer Omar Camarillo captured a heartbreaking sight: a homeless woman on the streets of Tijuana, Mexico, wrapped only in garbage bags for warmth, and with no one but her six dogs to keep her company.

According to Bored Panda, the woman is 65-year-old Luz Maria Olmedo Beltran, who is known as "Chole." She's been living on the street for eight years.
The photos taken by Omar show Chole as she's approached by local police, who urge her to go to a shelter ahead of the dangerous cold weather. But the woman refused — reportedly because the shelter isn't pet-friendly, and she couldn't leave her loyal dogs behind.

According to Bored Panda, Chole did eventually relent and stayed at her son's place for the night. But the next day, she was back on the streets, returning to her dogs.
Chole's story soon went viral. People were moved by Chole's struggles with homelessness as well as her loyalty to her pets.
"I was shocked by the conditions in which the woman lives," Omar told Bored Panda. "I was able to realize that 'La Chole' has a great heart because she helps animals despite having many shortcomings."
But when Alejandra Cordova Castro saw the story, she was so moved she decided to help the woman herself.
"Her love for her dogs touched my heart," Alejandra wrote on Facebook. "I have always believed that if you do not know how to love an animal you do not know how to love."
Alejandra went out and found Chole, providing water, food, blankets, and items for her dogs.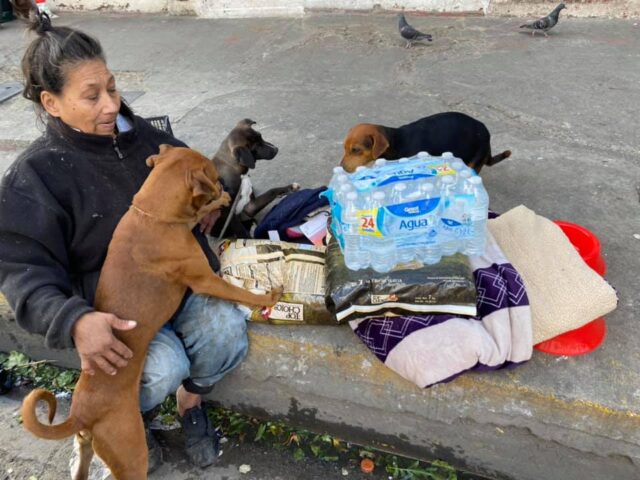 Chole was extremely grateful for the act of kindness from a stranger: "She said thank you so many times that she made me cry," Alejandra told Bored Panda.
Chole is reportedly now staying at a shelter that is in poor condition, but is now able to be with her dogs. She hopes to one day have a place of her own, where she can rescue even more dogs.
It's incredible to hear of someone in this situation still putting their dogs first. Chole's story is clearly inspiring people to help her, and we hope things get better for her and her pets.