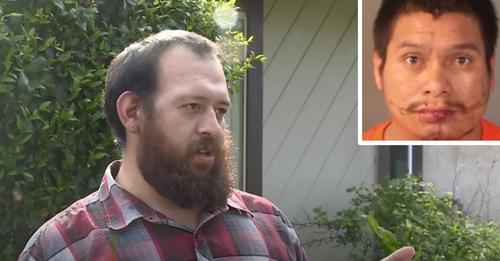 A brave father saved his daughters life in a heart-pounding incident that has left a community in shock.
It all started when Freddie Cantrell received a frantic call from his ex-wife, who was supervising their daughter with her new husband at Regional Park in Auburn.
"I got a phone call from my ex-wife telling me that I need to come down quickly. She said 'Someone just tried to kidnap our daughter, Aubrey'," Cantrell said in an interview. The entire incident happened in front of Aubrey's 6-year-old sister, Natalie.
"Some unknown guy just came here, started dragging her. He attempted to run over and take her with him," little Natalie remembers.
Luckily, Cantrell was also at the park and saw his ex-wife's husband chasing the would-be kidnapper. Cantrell had one chance to cut off the perpetrator, so he made a break for it and had a violent encounter as the kidnapper crossed his path.
"He was wearing handcuffs wrapped across his fingers and tried to use them on me," Cantrell explained. "He intended to make them seem like brass knuckles and punch me with them. I had no other option than to act immediately and knock him out."
Authorities arrived shortly and arrested 26-year-old Yonel Hernandez-Velasco. Hernandez-Velasco was charged with attempted kidnapping and assault with a deadly weapon.
Cantrell's heroic act gained widespread recognition after Aubrey's mother documented the incident on Facebook. The post quickly went viral, garnering over 1,000 shares and hundreds of comments from concerned individuals across the country.
Watch the full news story below to learn more about Cantrell's brave act to protect his family.