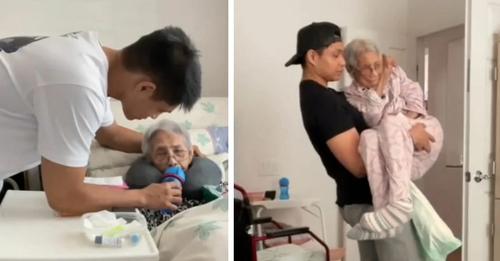 Chris Punsalan, a 29-year-old man from Henderson, Nevada, has earned quite the following on TikTok for his videos about his grandmother, whom he lovingly calls "Apu."
Chris is a full-time caregiver for his grandmother, who was once an elementary school teacher in the Philippines. When his family considered placing Apu in a nursing home, Chris objected. He wanted to take care of her himself.
Chris devotes nearly all of his time to his beloved grandmother and ensures she is happy and comfortable. He prepares her bed, he cooks her and helps her eat, he helps her bathe and stay clean, and always tells her how much he loves her. Chris does everything he can to help Apu feel connected to the world around her. He doesn't mind because he says his grandmother is worth every minute.
One of the things that people have noticed about Apu is how soft-spoken and sweet she is. She often asks for her rosary and thanks Chris for taking care of her. However, sometimes she has trouble remembering people and places and occasionally asks who Chris who he is and how they are related. While these moments can be heartbreaking, Chris says he treasures every moment he has with his grandmother.