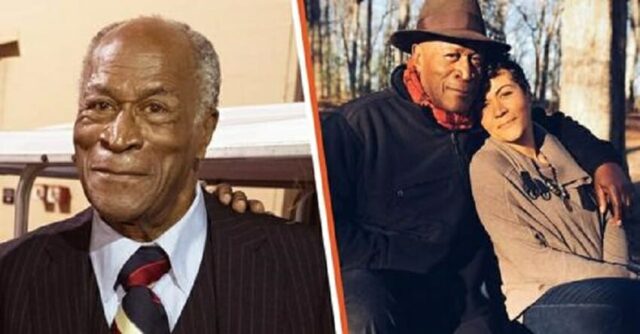 John Amos, who is best known for his iconic role as James Evans Sr. in the popular 1970s sitcom "Good Times," celebrated a significant birthday as he turned 83. A few weeks before his birthday, the revered actor and father figure defied expectations by tossing aside his cane and dancing with his daughter. Amos' invigorating display of vitality and affection moved the hearts of fans all over the globe.
Many viewers viewed Amos, who portrayed the hardworking and caring patriarch James Evans Sr. on "Good Times," as a symbol of resilience and fortitude. The groundbreaking program, which broadcast from 1974 to 1979, depicted the struggles and triumphs of a black family residing in a Chicago public housing project. Audiences connected with Amos' portrayal of James Evans Sr. because he brought depth and authenticity to the role, addressing urgent social issues while also providing moments of laughter and love.
View this post on Instagram
Amos was seen attending a family reunion with his loved ones in a video that went viral for its warmth. His daughter, Shannon Amos, invited him to join her on the dance floor as the music played. The beloved actor initially used a cane for support, but he astonished everyone by abandoning it and dancing enthusiastically, demonstrating his enduring spirit and zest for life.
The video captured the pure happiness and affection between a father and daughter. The audience roared and applauded as Amos and his daughter demonstrated a connection that transcended time and age by moving with grace and enthusiasm. The touching moment demonstrated the enduring connection between generations and the ability of music and dance to unite people.
At the age of 83, Amos's ability to abandon his cane and perform with such vitality is an inspiration for people of all ages. His determination, vitality, and refusal to let age define his abilities convey a powerful message about savoring life's precious moments and valuing important relationships.
In addition to his role on "Good Times," Amos has had a fruitful and diverse career in film, television, and theater. He has appeared in notable works like "Roots," "Coming to America," and "The West Wing." Throughout his career, he has been lauded for his aptitude, versatility, and dedication to telling stories that reflect the variety and depth of the human experience.
As John Amos celebrates his 83rd birthday, fans and admirers from all over the globe gather to recognize his contributions to the entertainment industry and the positive influence he has had on countless lives. His portrayal of James Evans Sr. on "Good Times" continues to reverberate with audiences, serving as a reminder of the significance of family, tenacity, and the pursuit of justice.
Amos' recent performance with his daughter serves as a reminder that age is merely a number and that it is never too late to enjoy life's pleasures. His spirit and energy serve as a reminder to savor every moment, celebrate the bonds we share with our loved ones, and continue to pursue our passions with zeal and resolve.
We celebrate John Amos's life, talent, and enduring impact on the entertainment industry as he reaches this significant milestone. His dedication to his craft, dedication to social issues, and ability to bring joy and inspiration to audiences around the globe make him a legend. Best wishes on your 83rd birthday, John Amos! May your days be filled with love, laughter, and numerous opportunities to perform.