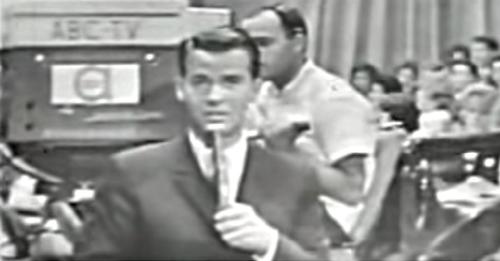 From 1952 to 1989, one television program was the apex of musical performances, dancing, and cultural events. Of course, we're talking about "American Bandstand!" Hosted by the legendary Dick Clark from 1956 to 1989, Bandstand provided countless memories for generations of music fans. Being the huge Bandstand fans that we are, we decided to take a look back at some of our favorite moments from the show… six to be exact. So follow along with us on this musical road trip through time!
1. School Is Not Over, Says Professor Barry
On November 8, 1957, Chuck Berry came on the show for his national television debut, performing "Rock and Roll Music," back to back to the delight of the audience and the viewers at home. A pivotal performance in the history of Rock & Roll for sure, but not our favorite. Instead, we remember his 1958 performance of "School Days" the best! It was May, and we were all eager for summer to begin, but Professor Barry (as Clark called him) wasn't quite ready just yet!
2. A Dance Craze Is Born
While Chubby Checker might not have been the first one to perform "The Twist," he definitely was the most memorable (it was actually written and released by Hank Ballard and the Midnighters in 1959). In fact, Dick Clark had a huge hand in the song's popularity. The story goes that Ballard's version of the song became popular on a local Baltimore dance show. When the host of that show recommended the song to Clark for Bandstand, Clark wanted to get Ballard on to perform it. Clark was unable to book Ballard, so he found a similar artist to perform it instead (Checker). He performed it on the show in 1960, and the rest is history!
3. Futre Rock & Roll Hall Of Famers
The date is July 9th, 1960. It's a Saturday, and Dick Clark is going over the Top 10. It's full of great songs, but number six stands out above the rest; for in a mere matter of moments, The Everly Brothers are about to perform an all-time classic, "Cathy's Clown." As Clark described it: "a little unusual, a little strange…" but very memorable!
4. Its Got A Good Beat And You Can Dance To It
While most of the standout moments of Bandstand involve a special musical guest, the show also had it's fair share of recurring bits. One in particular that we loved was Rate-a-Record. Clark would interview a few of the teenagers from the audience about a new track, asking for their opinions (and a rating on a scale of 35 to 98). If you've seen even one segment of Rate-a-Record, chances are you heard the phrase, "Its got a good beat and you can dance to it." Check out the following clip where the teens rate "You're Gonna Make Me," by The Wordd.
5. The King Of Pop Is Born
While most of our top moments took place in the '50s and '60s, we would be remiss not to include the Jackson 5 performing "ABC." From the moment it starts, it's clear that an adolescent Michael was meant for stardom. While they also performed their first single "I'll Be There," we have fond memories of dancing along to the poppy and catchy "ABC."