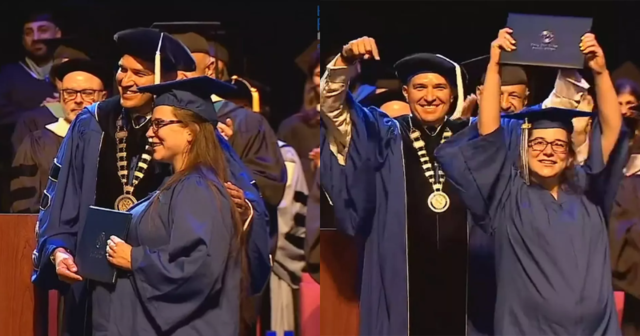 This graduate didn't let a little thing like being in labor get in her way of receiving her college diploma.
On May 6, first-time mom Kelsey Hudie walked up to the stage at Henry Ford College in Michigan, even though she was 38 weeks pregnant — and already dilated.
"That wasn't going to stop me from walking across the stage," Hudie, 27, told NBC affiliate WDIV-TV. "I even said if I had her before the walk, I was just going to hold her in my arms and walk across that stage."
Although the school let her know she didn't need to actually be there to get her degree, "I said, 'I'm walking,'" the new mom told ABC News. "[College] was my accomplishment and this is the proof. I was expecting to walk in just like normal, but I was determined."
Still, in order to make it to the hospital in time to give birth, she got the school to move her up the order of recipients.
"I hope you will allow me to quickly move through one degree before we do the rest of you all," Henry Ford College President Russell A. Kavalhuna announced ahead of the commencement ceremony, per WDIV-TV.
"When we bring people through Henry Ford College, they've got grit. They've got perseverance," Kavalhuna added, reported ABC News. "And this student has told me, and us, 'I'm going to walk across that stage despite the fact that I am 38 weeks pregnant. I am dilated, and I can't wait for you, Russ, and your friends to talk for an hour-and-a-half, so I need to graduate quickly.'"
"They all were so polite," Hudie told the station, noting she was able to "sit on the stage" so she didn't have to "walk up and down a million sets of stairs."
The new mom, who gave birth to her daughter Nylah on Monday, said she normally doesn't like to "make a big show about things," but since the school was willing to accommodate her, she thought "why not."
In the video, she can be seen proudly clutching her hard-earned diploma and holding it aloft as she walks to the side of the stage.
What made the experience even more meaningful was the response she got from the crowd.
"That put a big smile on my face," Hudie, who plans on being a teacher, told ABC News. "I didn't really realize when I was walking across the stage with her in my belly that I'd be a big inspiration to others."