When firefighters were called to an apartment fire in Des Moines, Iowa, they weren't expecting to find a dog trapped inside.
A 16-month-old Mastiff was trapped in the fire and firefighters rescued him and supplied him with oxygen, according to the City of Des Moines Facebook page.

When Animal Control arrived and assessed the dog's injuries, they said treatment would be expensive, with the other option being to euthanize the dog.
The owner opted to put the dog down, but a firefighter stepped in.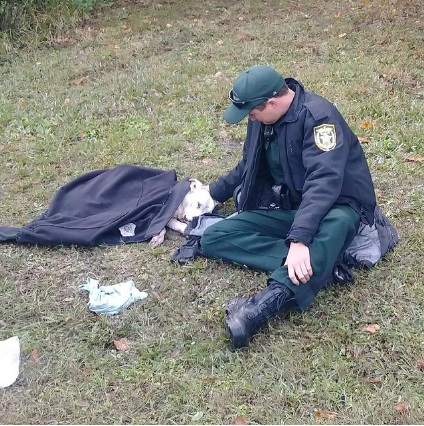 Firefighter Malcolm Cortner, who had helped rescue the dog, asked if he could take ownership of his new furry friend and pay for his medical expenses.

The previous owner agreed that Malcolm could take ownership of the dog and he was transported to his new loving forever home with a plan for treatment so he could recover properly from his ordeal.
The dog, called George, is now happy and healthy in his new home.
Malcolm was a hero in every way that day saving this dog's life twice.

Help us pay tribute to Malcolm and thank him for his work saving lives by sharing this story.
We Love Animals is now on Instagram! Follow us for more uplifting animal stories and amazing pics!