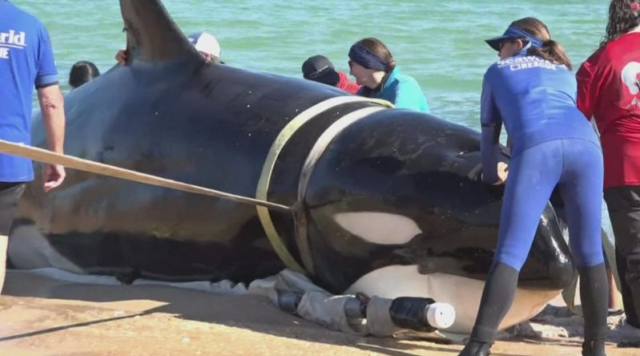 JACKSONVILLE, Fla. — An Orca was found beached in Palm Coast on Wednesday morning, according to the Flagler County Sheriff's Office.
The 21-foot whale reportedly beached itself south of Jungle Hut Park and has since died. Deputies, SeaWorld and the Florida Fish and Wildlife Conservation Commission are on scene assisting with the removal.
Derek Pence, has lived in palm coast for a few years and takes his morning beach walks just about everyday.
Pence still can't get over what he witnessed.
"We saw something propped up in the water it was large it was about 25 feet off shore as we got closer we could tell it was a whale," said Pence.
Pence took a video of the Orca and says he called FWC immediately.
Agencies were called out to flagler beach to help out with the recovery.
Southeast region marine mammal stranding coordinator with NOAA, Blair Mase, says the Orca is an adult female and she weighs 5-6 thousand pounds.
Mase says the Orca did suffer cuts on its body, and by looking at the video pence took the Orca appeared to be alive before washing up on shore.
"We've never had a stranding so that's what's so unusual. We've never actually had one beach itself. So it's extremely rare and our job is to find out potential cause of death and get as much information as possible from this animal," said Mase.
Mase says there have been Orca sightings recorded in the gulf stream, Atlantic coast, as well as the Gulf of Mexico.
"Our job is to find out why it died and what are the potential cause of deaths. We won't know if it's natural or potentially human caused and that's our job to rule things in or out and at that point we can determine if there's cause of concern,"said Mase.
The Killer Whale has no visible signs of injury, according to a SeaWorld worker who was at the scene. The cause of death is unknown, at this time, and will be determined during the necropsy.
The whale was taken in a refrigerated truck and driven to SeaWorld Orlando for the procedure.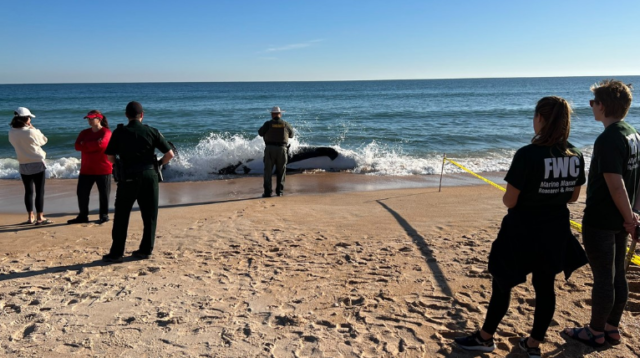 Credit: FCSO
The 21-foot whale reportedly beached itself south of Jungle Hut Park and has since died.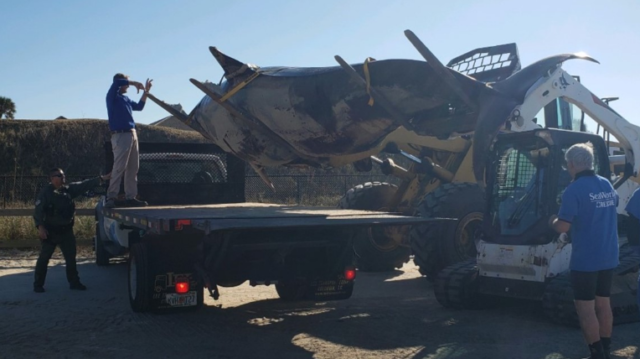 Credit: FCN

Dead orca in Flagler County