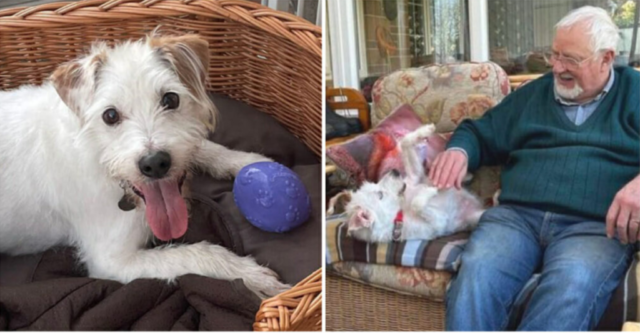 It's always sad when dogs spend a long time in a shelter. All dogs deserve a good home, and shouldn't have to spend months and years waiting to get adopted.
It was an especially sad case for one poor dog, who ended up in the shelter after his owner wanted him dead and ended up spending 500 days waiting for a new home.
But thankfully, his heartbreaking story has finally reached a happy ending.
Buddy, a 10-year-old terrier, was at the RSPCA Brent Knoll Animal Centre in Somerset, England longer than any other dog. He arrived there all the way back in 2020, brought by vets after his previous owners had tried to have him euthanized.

The RSPCA says that Buddy had a "less than ideal relationship" with the owner: "There was a clear breakdown in communication between them and this resulted in misunderstandings," they wrote.
Thankfully, the vets refused their request, sparing the dog's life and hoping he could have a second chance with a new family.
Despite his troubled past, his carers at the RSPCA have called Buddy an "affectionate chap" and a "cute lad." And while his previous owner gave him up due to some challenging behavior, he's greatly improved with lots of love and training.

Despite his loving behavior, Buddy struggled to find a home. Complicating their search was the fact that Buddy needed a special home that would help him put his difficult past behind, with "conscientious owners who have time and patience to help him live the happiest life possible" and a stress-free environment.
The search for the perfect home went on and on, and last month marked his 500th day in the shelter, an unfortunate milestone that only underlined the fact that he had been with them longer than any other dog.
Desperate to finally get poor Buddy the home he deserves, the RSPCA shared his story and soon the dog went viral around the world.
Weeks later, his story has received an inspiring update.
On February 14, the RSPCA wrote that a "lovely couple" saw Buddy's story on the news, and were interested in possibly giving him a home. They met Buddy in person, and things were "looking just grand," as the couple hit it off with Buddy:
Now, Buddy's story has officially come to a heartwarming end: the couple adopted Buddy for good!
The RSPCA branch said they were "very happy" and shared photos of Buddy settling into his new home.
It's already clear that Buddy is settling in well and loves his new family. Despite everything he's been through, he's one loving, playful little dog.
"Buddy is settling in very well, he hasn't stopped all day playing ball and going around the field, but he is asleep on my lap now!" the RSPCA wrote.

We're so glad Buddy has finally found a home. It's heartbreaking to think his former owner wanted this beautiful dog euthanized, but we're so thankful that his life was spared and he's been given a wonderful second chance.
Thank you to the RSPCA for not giving up on him, and to this lovely couple for giving Buddy his long-awaited forever home!
Share this amazing news!
We Love Animals is now on Instagram! Follow us today for lots of adorable animal pics and great stories!
Posted in Uncategorized
Post navigation