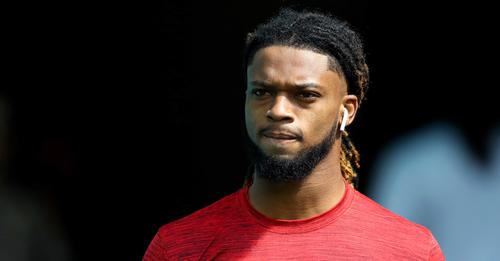 It's been nearly three weeks since Hamlin went into cardiac arrest and collapsed in Cincinnati.
Buffalo Bills safety Damar Hamlin joined his teammates Sunday ahead of their playoff game against Cincinnati Bengals, the team they were playing when he collapsed on national TV.
The Bills posted video of Hamlin in a cart inside Highmark Stadium in Orchard Park, New York, with the message, "Welcome home."
Hamlin was spotted entering the Bills' locker room ahead of the Bills-Bengals playoff game. He was in street clothes and was later seen leaving the dressing room and taking an elevator up to a suite.
The visiting Bengals took charge early and went on to a 27-10 victory and will face the Kansas City Chiefs, with a trip to the Super Bowl on the line.
Welcome home, @HamlinIsland. ❤️💙#CINvsBUF | #BillsMafia pic.twitter.com/OG88gibcVv

— Buffalo Bills (@BuffaloBills) January 22, 2023
Hours after the game Sunday night, Hamlin told Bills fans to keep their spirits up and that better days are ahead.
Hamlin's recovery has been cheered by football fans across America.
We'll be back… don't even trip.

— 𝐃𝐚𝐦𝐚𝐫 𝐇𝐚𝐦𝐥𝐢𝐧 (@HamlinIsland) January 23, 2023
Buffalo was playing at Cincinnati on "Monday Night Football" on Jan. 2 when Hamlin appeared to make a routine tackle of Bengals receiver Tee Higgins. Hamlin got up from the tackle and then appeared to go limp and fall backward.
Trainers and medical personnel rushed on the field to treat Hamlin, who might have experienced commotio cordis, a rare phenomenon in which blunt force to the chest can cause a healthy heart to stop beating during a narrow window of the cardiac cycle.