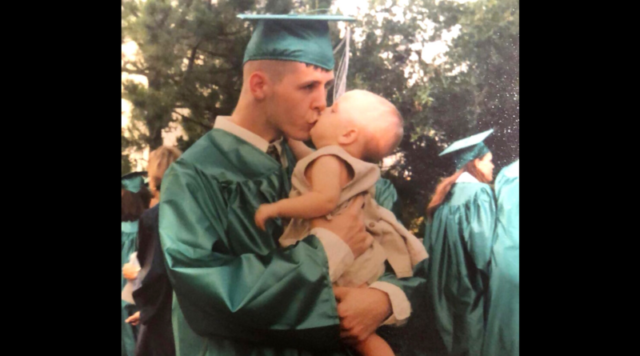 Graduation is always a grand and personal affair for children and parents.Graduating is every child and parent's dream. They get to see their kids march on stage, receive their diplomas, and recognize their efforts for the whole school year. Families also love to share their milestones and proudest moments.
Among these photos are a dad and daughter who made headlines on social media.Tori Roach recently graduated from Huntsville High School in Texas in May of last year. Like any proud graduate, she posted a memorable photo during her graduation. But, her photo stood out among all the graduates.
Tori shared a throwback photo of her dad during his high school graduation in the same school.
SOURCE: TWITTER/@_TORITILLA
In the photo, you can see Tori's dad in his graduation cap and outfit while holding a baby Tori in his arms as he plants a kiss on her cheek. Alongside that picture, the 19-year-old shared a recreated version of that photo from where her father carried her in his arms like he used to and planted a kiss on her cheek.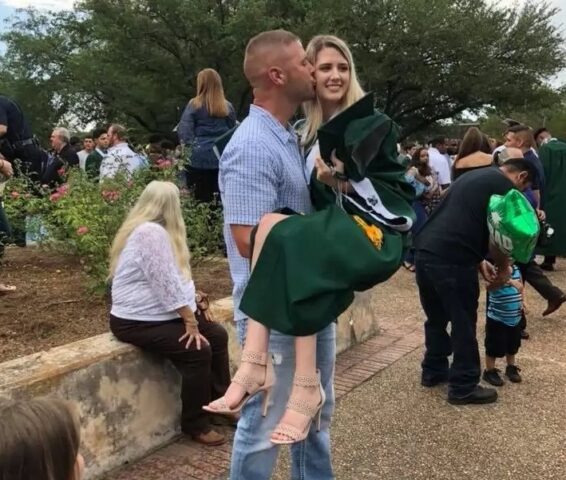 SOURCE: TWITTER/@_TORITILLA
The photo went viral and amassed thousands of retweets!
Everyone was amazed by the cute and nostalgic movement between the father and daughter. You can see on their face the beautiful relationship. She even captioned the post "18 years later" alongside a graduation cap and green heart emojis.
Many people were also quick to notice her dad.
Tori had to clarify her dad's relationship status with a follow-up tweet: "For everyone asking, yes this is my dad, he's 37, and no he isn't single. I have another sibling on the way."
SOURCE: TWITTER/@_TORITILLA
Beyond the fan base, her father was able to get, Tori was thankful for the people who commended their relationship.
"I'm from a small town and nothing like that ever happens over here. I didn't expect it to blow up like that! Once it started happening, I was like, 'Oh my gosh!' I called my family and I was like, 'Everyone's sharing the pictures!'" she told PEOPLE.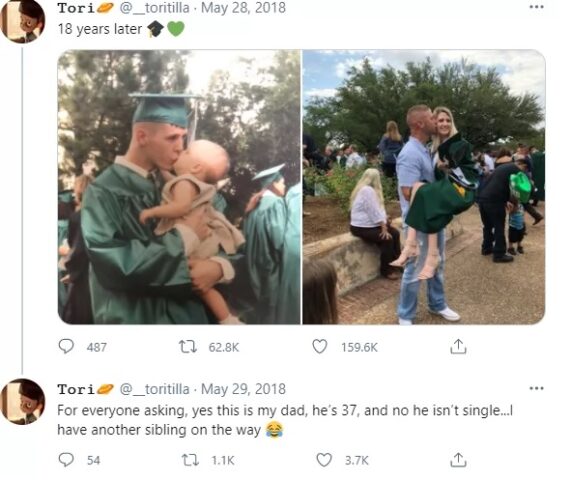 The photo was uploaded last year, but it was only this year where it has gotten a lot of attention.
"I woke up and I had a ton of notifications … People had started sharing and liking and commenting all over again," Tori said. "My dad was really proud. We're from a small town, so nothing like this really ever happens. And he was like, 'That's so cool!'"
Currently, Tori lives with her father Dennis, stepmother Jamie, and baby brother Silas in Huntsville. The photo was found when they were looking for baby pictures to display at her graduation party. When they found the photo, they thought of recreating it.
SOURCE: PIXABAY
She even shared that it brought her closer to her father.
SOURCE: PIXABAY
"It brought me and my dad closer in a way because we could share that moment, and I feel that not many other people get to experience that," she said.
Currently, Tori is a college student at Sam Houston State University. She and her dad also plan to recreate the photo when she graduates in 2022.
SOURCE: PIXABAY
"It's in the same town that I was born and raised in. When I graduate from Sam, it'll be in the same stadium that I graduated in from high school and the same stadium that he graduated in from high school," she said.
Everyone will definitely watch out for the college photos!
Please SHARE this with your friends and family.