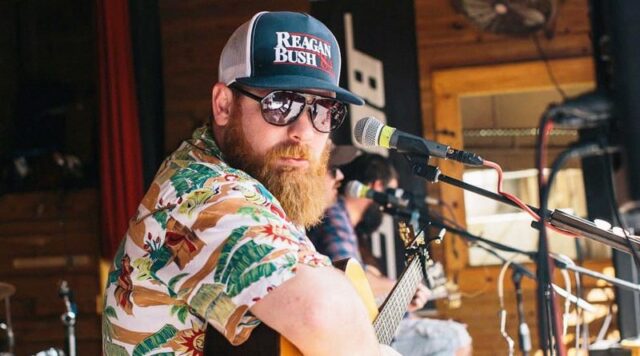 "Why " singer Jake Flint, 37, passed away on Sunday, November 27, only 37 hours after exchanging vows with his wife, Brenda. The two tied the knot on Saturday, November 26, at a remote homestead between Owasso and Claremore, Oklahoma.
His manager, Brenda Cline, announced the devastating news on her Facebook, writing that she had tried without success to share the news because she still was yet to process what had happened.She accompanied the post with a photo of her and Flint from when they signed their first artist management contract, noting that it was the genesis of a lovely working relationship.
She then declared that she loved Flint like she would her own son.
The two planned on returning on tour on December 2, after he got married, but fate appears to have had other plans. She then asked everyone who knew him or was friends with him to pray for his wife, Brenda, mother, sister, and anyone else affected by Flint's de' ath as they tried to deal with the tragic loss of their loved one.
View this post on Instagram
She noted that accepting his loss would be difficult for many people and concluded her post with a message of love to Jake. The demise of the Oklahoma-based singer-songwriter has shocked many, including Mike Hosty, who performed at the "Let Me Be" singer's Saturday wedding.
Hosty recalled that Flint was in a beautiful mood on his wedding day and did not let the rainy weather dampen his joy. After all, he was walking down the aisle with the love of his life.
Hosty says it was a fun wedding, and he was shocked when he received the news that Flint had passed away in his sleep. He says Flint had the biggest personality and heart and often went out of his way to help others.
He shared that he wanted only memories of Flint and Brenda's fun wedding and was unwilling to accept that Flint was no more. He, however, sympathized with Brenda.
The shock following the singer's sudden demise was also evident in the Oklahoma music community as people tried to come to terms with the tragedy. Those whose paths he crossed remember him as a super friendly guy everybody loved.
View this post on Instagram
How Is His New Wife Taking It?
2022 started on a high note for Flint and Brenda after the lovebirds took their relationship to the next level and got engaged in January. Flint announced the fantastic news on his Instagram, asking his fans to say hello to the new Mrs. Brenda Wilson.
At the time, they were yet to determine their wedding date, but everything seemed to be going great. Unbeknownst to them, tragedy awaited them on what was supposed to be the happiest day of their lives.
While the devastating news of Flint's passing weighs heavy on many, from his family to his fellow musicians and even those he called friends, it is a harrowing ordeal for Brenda. Not only is she mourning her best friend, but her new husband as well.
Brenda was a happy bride for only 37 hours before losing her new husband, and the news has been nerve-wracking. She took to Facebook to share her pain, posting their wedding video, only hours earlier, as they played goofily and seemed to have the time of their lives. She captioned the video:
"I don't understand."
Hours later, she posted a heartbreaking message on her timeline that shed light on just how devastating her situation was: "We should be going through wedding photos, but instead, I have to pick out clothes to bury my husband in." She continued:
"People aren't meant to feel this much pain. My heart is gone, and I just really need him to come back. I can't take much more. I need him here."
Fans have sympathized with Brenda as she mourns the loss of her husband. Some noted how heartbroken she must be with many others sending their love and prayers as she tries to find the strength to overcome the tragic loss.