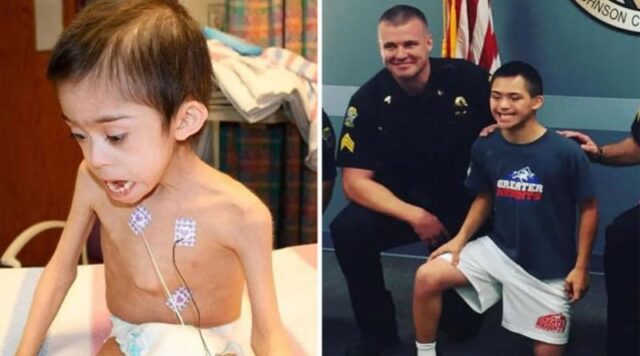 In 2010 a boy with Down syndrome was discovered in his family's attic, starved and neglected by the one person who was supposed to care for him.
Giovanni "Govi" Eastwood was 6 years old at the time, but weighed the same as a three year old.
His mom Rachel Perez had been taken into custody for outstanding warrants and police had found her other children and taken them to a safe place but Govi remained in the attic of his Kansas home.
"She (Perez) concocted some story about where Govi was," said Sergeant John Klingele who discovered the boy. "So they all ended up leaving and Govi was still there."
Inside Edition / Family handout
Officers had a hunch that the boy was still in the house and returned to look again. After calling out to the boy they eventually realized that he was in the attic.
"He looked like a kid out of a concentration camp, skin and bones," Klingele recollected when he first saw Govi. "We were told he was going to be 7 and size-wise he looked 3 maybe."
Govi weighed just 17 pounds and couldn't walk, barely talked, and was covered in excrement.
Starved of nutrients, the boy had lost hair on his head, his bones were brittle and bowed from rickets, and the fatty tissue on his bottom had wasted away. Medical staff said Govi wouldn't have lived much longer if he hadn't been rescued that night, as reported by the Kansas City Star.
There was no blanket, no toys, the boy had just been left up there, authorities believed his mother put him up there to hide him away.
Perez is currently serving an eight-year prison term for attempted murder over the treatment of her child.
Six years later the officers who found Govi that day were reunited with him and couldn't believe the transformation.
'The kid is magical'
Govi and his two sisters were taken in and adopted by their great aunt and uncle, Stacy and Joe Eastwood. Govi's recovery has taken a while; at first he would only sleep on the floor and was worrying he was going to get hit every time someone wanted to high five him, but now he feels safe and loved by his new family.
"The kid is magical. Everybody he comes in contact with, he just brings out a better person in them," Eastwood said.
The officers who saved him certainly noticed the positive change in the 12 year old who visited him at the Sherriff's Department in 2016 where he was made honorary deputy and awarded a plaque.
Govi shook the hands of the officers and thanked them for rescuing him that day.
"That boy is the hero. Seeing how big his heart is and his smile is… It's really good to see him," Klingele said.
According to his great aunt Govi slept with his special plaque that night.
It's beyond belief that a parent could treat their child this way. I thank God he was found when he was and is now in the loving home he so truly deserves. Please share.