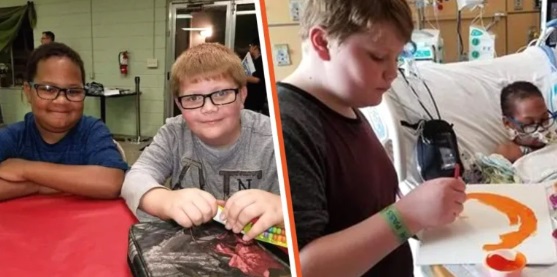 A young boy devastated over his best friend's death was crushed even more when he learned his late friend's mom couldn't afford to buy his headstone. Not wanting her to visit an unmarked grave, the young boy decided to raise money for a special gift.
When Kaleb Klakulak and Kenneth "K.J." Gross first met in 2013, they developed an instant friendship — something that wasn't lost on their mothers. The duo loved spending time together and visited each other's homes as often as possible.
K.J., who lived in Warren, Michigan, ran into Kaleb when the latter started second grade. He was the new kid in town at the time, whose parents had just divorced. Moreover, Kaleb was shy and didn't easily make new friends. But that changed when he met K.J.
An Instant Connection
According to their moms, the two boys clicked because they were both reticent and good-natured. They were also being raised by single mothers at the time. Of their unique connection, K.J.'s mom, LaSondra "San" Singleton, said at the time:
"I call them brothers, just of a different race."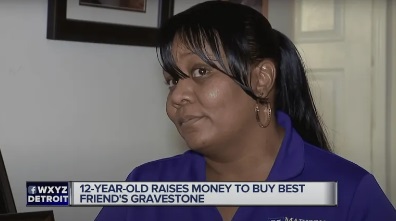 Singleton noted that the boys were kindred spirits who cherished each other's company. Often, they would play video games, watch movies, or visit Greenfield Village, a collection of historical monuments.
When Kaleb and his mother learned the reason behind Singleton's worries, they decided to do something.
An Extended Friendship
Kaleb's mom, Kristy Hall, said that K.J. brought sheer love and joy into their lives. Even more special was that Singleton and Hall were able to bond too. Regarding their friendship, Hall recounted:
"We were both single moms at the time, sharing our stories and taking comfort in each other."
Hall shared that her son even invited K.J. to his church, where the latter became a regular and enjoyed singing. The two boys were so close that it made no difference to Kaleb that his best buddy had health struggles.

A Unique Connection
When K.J. was a baby, Singleton said he was diagnosed with leukemia and underwent several surgeries throughout his life. Sometimes, his allergies were so severe that he had trouble going out.
Singleton said Kaleb came to her house during those times to play with Gross. "They were inseparable from the beginning to end of their relationship (sic)," she added.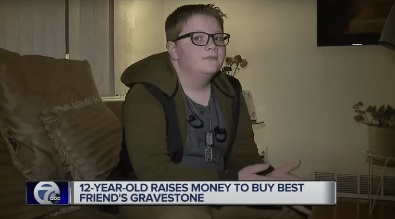 Falling Ill
But the youngsters' fun trips and activities came to an abrupt end when K.J. was hospitalized for the last time in 2018.
After winning his battle against cancer twice and being free of the disease for six years, K.J. faced another health scare. The side effects of chemotherapy took a toll on him, and he was said to have developed congestive heart failure. Singleton said her son needed a new heart and was admitted to the I.C.U.
A Heartrending Sight
For months, Kaleb and his mother dropped by each week on Tuesdays to visit K.J. The boys played a wrestling video game and enjoyed painting.
Singleton expressed that Kaleb's hospital visits were the highlights of her son's otherwise gloomy days. But seeing his best friend's health deteriorate was a painful sight for Kaleb.
The Hardest Goodbye
On May 1, 2018, things took a tragic turn when Singleton said she discovered her beloved son had very little time left. She called Hall and Kaleb, who hurried to be with K.J. in his final moments.
Hall said her son was in tears as he sat beside his dear friend and bid farewell. Singleton, a mom of six children, reportedly left her job months ago to stay with her son in the hospital and be with his full-time carer.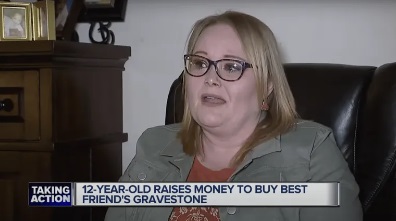 Grave with No Name
Because she was jobless while having to look after her mom with Alzheimer's at the time, Singleton faced another predicament. She buried K.J. in a family plot but couldn't afford to buy a gravestone.
When Kaleb and his mother learned the reason behind Singleton's worries, they decided to do something. The 12-year-old, who was going through a difficult time after losing his beloved friend, sprang into action.
A Special Gift
Thus, Kaleb made it wish to give his friend a headstone. Hall said her warm-hearted boy collected soda bottles and exchanged them for recycling deposits at the store to raise funds. Moreover, Kaleb raked leaves and created a Paypal fundraiser with his mom's help.
Eventually, the mother-son duo was said to have gathered over $2,500 to support Singleton, who couldn't control her emotions when she learned what the mother and son were up to. A teary-eyed Singleton expressed:
"I cried because it was unexpected.
I cried because I'm trying to figure out things from day to day. I can see his final resting place. I have a place I can go and be with him."
A Sweet Response
When Kaleb was asked why he felt the need to raise money for his late friend's gravestone, he had an unusual response. The wise youngster said he didn't want his friend's mom to visit an unmarked grave. He added:
"I love Ms. San. I was sad she couldn't afford it. I wanted people to be able to find (K.J.'s grave) when they went to see him."
Loved beyond Measure
Singleton said she was particularly touched by young Kaleb's love, affection, and dedication for his late friend. She stated:
"I knew that they loved my son when he was alive. But I really really know that they love my son because even in his passing they're still trying to help me."
According to sources, the two mothers and Kaleb went to choose a headstone for K.J., which was likely to be installed before 2018.
A Brother, Son & Friend
When Singleton was asked what she wanted her sweet son's gravestone to read, she replied, "KJ Gross/Cherished brother, son, and friend."
The mother hoped the heartwarming friendship between K.J. and Kaleb would help unite people from different races, fostering love and togetherness.
Our thoughts and prayers go to the late Michigan boy and his loved ones. We are sure his family and friends will forever cherish his sweet memories and hold onto them.
If you liked reading this story, please take a moment to share your feedback on Facebook.