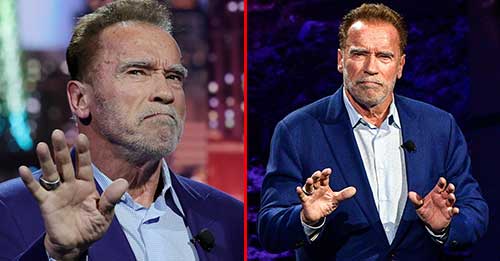 The Terminator actor has spoken up about his beliefs regarding the afterlife and what occurs after we all die.
And it will be the end of it for him.
Arnie says that there is 'nothing' that awaits us once the curtain falls on one's earthly life.
Anyone who claims they'll be walking on the pearly gates and seeing St. Peter is a 'f****ng liar, according to the 75-year-old.
In an interview, Twins co-star Danny DeVito was asked, "What's in the future for us?"
It reminds him of Howard Stern's question to him," said Arnie. 'Governor, tell him what awaits when we die.'
'Nothing,' he responded. One is six feet underneath. Anyone who says otherwise is a f****** liar.
He said that no one knows what's going to occur with the soul and all this spiritual stuff that he is not an expert in, yet he understands that the body as one sees it now will never see each other again like that.
With statements like these, one would believe Arnie is comfortable with the thought that there is nothing when one dies, but it turns out that the reverse is true.
He said that when folks talk about, 'I will see them again in heaven,' it sounds great, but the reality is that one won't see each other again after one is gone. That's the unfortunate thing. He understands that some individuals are at ease with death, but he is not.
Looking back, Arnie admitted that he had lost over a dozen bodybuilding pals during the previous 20 years.
As a consequence, he said that he had developed his own interpretation of what "heaven"—whatever it may be—meant to him.
Heaven, to him, is where he puts an individual who he loves deeply, who is compassionate and giving, and who has made a difference in his life and the lives of others, he said. He keeps them in a special place in his head, like that front row of all one's friends. And one always has a positive feeling when one thinks of them.
The father-of-five is ready to open up even more in his new Netflix documentary, Arnold, which will be released on June 7th.