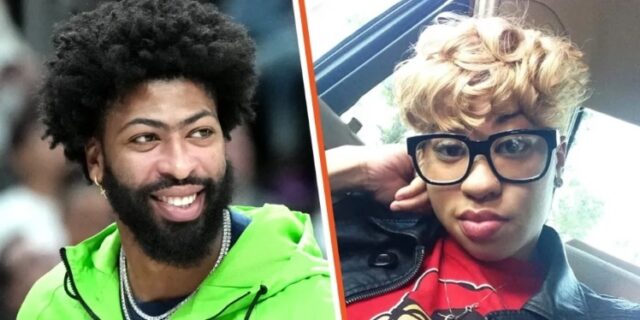 Antoinette Davis was born into a family blessed with the height and prowess of being athletic. While she remained largely outside her brother's spotlight, it still pooled at her feet as fans of the NBA star found her place of employment and often asked for pictures.
Antoinette Davis shared a strong bond with her brother, as his affectionate posts suggested on his Instagram page many years ago. However, when Anthony garnered recognition for his skills on the basketball court, it started to affect his loved ones, especially his twin sister.
Eventually, Anthony's affectionate tributes to Antoinette lessened until they stopped over the years, which may have been to protect her from the attention she received due to his fame. She also has an Instagram account, but she has kept it private.
View this post on Instagram
Antoinette's siblings, including her older sister, Iesha Davis, pursued basketball professionally as they played in college. However, Iesha dropped the sport at some point after realizing "it wasn't for her" and ventured into a different field. Antoinette's chosen career is currently unknown.
Anthony's Fans Found His Twin Sister at Work
Antoinette drew her first breath on March 11, 1993, born to Erainer and Anthony Sr Davis. Like her older sister and brother, she attended Perspectives Charter School in Chicago. Although Iesha and Anthony were active in basketball, it's unknown if Antoinette pursued any sports in school.
Her parents were dedicated to her siblings' passions as they attended each basketball game. They continued to do so after Anthony got his big break as the number one overall pick in the 2012 NBA draft.
View this post on Instagram
When her brother rose to fame, Antoinette found the eagerness of his fans quite baffling. They located the store she worked at and often visited to request pictures with her. Antoinette didn't clarify if she heeded those requests, but she thought the experience was "crazy."
She has remained incredibly low-key ever since, despite having an Instagram account. In 2013, Anthony posted a two-picture collage of Antoinette's selfies, where she donned a dark blue denim button-up, a thick silver chain, and large round silver earrings.
Antoinette had a nose piercing on her left side and sported an eccentric blonde hairstyle with makeup. Alongside the photo, Anthony tagged his twin and asked his fans to follow her account as she needed to increase her follower count.
View this post on Instagram
Antoinette's Instagram was "mooka_pooka," and at the time of this publication, her page still stood at 0 followers. She followed two other users and, referring to herself as "bazinga," stated in her bio that she would use the account for something "eventually."
Tallness in the Davis Family
Many of Antoinette's family members stand at towering heights, with her brother being 6'10". Anthony's stature increased in spontaneous growth spurts, which the Lakers superstar found "awkward" and "weird." It posed some inconveniences for him and his family, as it was pretty peculiar.
During a 2010 interview with ESPN, he said he went from 6'3″ to 6'5″. At the time of the interview, however, he stood at 6'8″. His older sister was a freshman basketball player at Daley College and stood at 5'10", and Antoinette was 5'8″. Their parents were also incredibly tall.
Anthony Sr. was 6'3, and Erainer was 6'1″. Apart from Antoinette's twin, the Davis family's tallest member was Antoinette's uncle, who measured 6'4″. Her brother's height increased every few weeks, forcing his parents to buy him an extra long king-size bed and bigger clothes.
Anthony Sr. and Erainer also bought an SUV for his comfort during long-distance trips. The rest of Anthony's family didn't experience the growth spurts like him. People often questioned if they caused him pain, but he said they never did.
Anthony Calls His Sister 'My Other Half'
Antoinette and Anthony share a warm bond. In 2013, Anthony shared another collage of Antoinette's pictures where she posed in a black-and-white outfit with golden-dyed hair and gold jewelry. He affectionately referred to her as "my other half" alongside the photo and still beckoned his supporters to follow her account.
Now and then, Anthony returned to his home city to spend time with Antoinette and the rest of their family, going out for lunch or dinner or spending a day in relaxation. Sometimes the family would also throw a small gathering to honor their son's visit.
View this post on Instagram
Anthony Davis' Older Sister Was Also an Athlete
Anthony and Iesha bonded over basketball growing up. However, Anthony fell deeper in love with the game and made it a professional career. Iesha was also on that path but later decided against it and pursued entrepreneurship.
Still, she remained supportive of her brother and even wore a hoodie with his face printed at one of his games. Iesha now runs her online boutique called KLASSY N' Divine Boutique. The products she offered included scented candles, lip gloss, and clothes. However, like Antoinette's, her personal Instagram account is private.
Anthony's Parents Differ in Their Attitude toward Money
Anthony Sr and Erainer – whose son, Anthony Davis, shared a bond with Kobe Bryant – have supported Anthony since he took an interest in basketball. Although Anthony Sr would sometimes be frustrated by his losses at Perspective, he and his wife prioritized their son's safety as he built his career.
Still, their views differed regarding money, and it became clearer after Anthony accumulated his wealth. Anthony Sr guided his son to be more practical when spending, but Erainer wanted Anthony to "have fun" and use his money however he pleased.