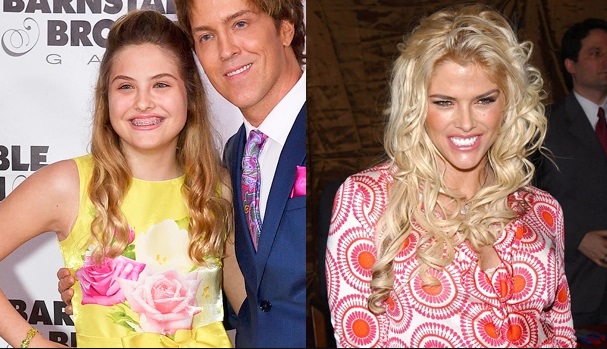 Anna Nicole Smith would've been 55 in 2022, and to commemorate the day, her ex-boyfriend and daughter paid tribute to her.
Dannielynn Hope Birkhead's birth father was discovered after her biological parent fought for her in court.
Larry Birkhead raised Dannielynn as a single parent and got her to age 16 in 2022!
On November 28, 2022, Anna Nicole Smith would've celebrated her 55th birthday with her daughter, Dannielynn Hope Birkhead. However, on the late star's birthday that month, Dannielynn kept her mother's memory alive.
The teenager and her biological father, Larry Birkhead, paid tribute to Smith with a throwback post of the star pouting while posing around colorful balloons. They wished the late star a happy birthday and said they missed and loved her.
View this post on Instagram
The former Playboy model and birthday girl died suddenly in Florida on February 8, 2007, at age of 39. The star, who rose to fame by modeling for Guess jeans, was found unresponsive in her hotel room close to Hard Rock Hotel & Casino before being rushed to the hospital.
Smith, who was taken to Memorial Regional Hospital, was staying at the Hard Rock Hotel with her partner, Howard K. Stern. According to Seminole's police chief, Charlie Tiger, the hospital told them that she died at 2:49 p.m.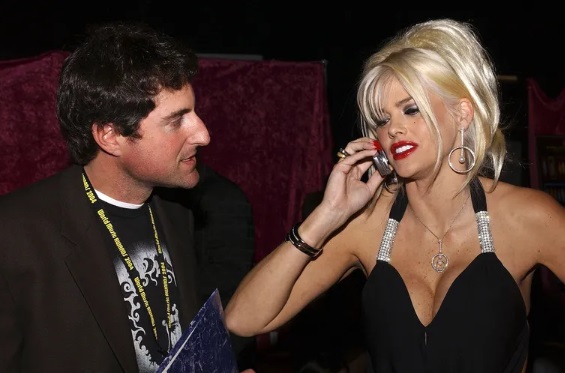 Stern, who'd exchanged vows with Smith on September 28, 2006, in a commitment ceremony, was left "devastated" by her death and couldn't speak. The model hadn't been doing well, suffering from flu and cold symptoms days before her passing.
Smith had been on vacation in Florida after checking in at the beginning of the week, with plans to leave on Friday. The hotel's public relations and advertising manager, Julianne Carelli, said the star was a "frequent guest."
According to a witness, Smith, who filmed a TrimSpa video and celebrated her last birthday at the hotel, appeared a "little woozy" and couldn't walk straight when she arrived, but Stern helped hold her up.
On Thursday, the source saw the model's bodyguard rushing into the building and then an elevator. A few minutes later, the witness saw Stern running "frantically" out of the elevator to the front desk.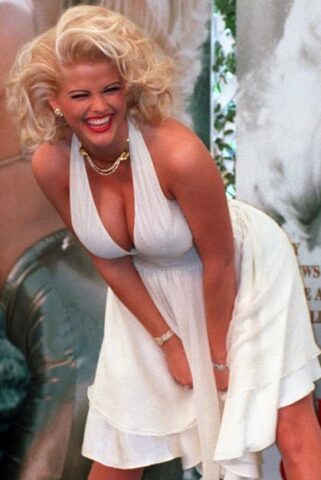 Smith's daughter was only five months old when her mother died. Dannielynn was born in the Bahamas and named after the model's first son, Daniel Wayne Smith. Speaking to "Good Morning America" in January 2011, Stern described his late partner as such:
"She was my best friend, my lover, the mother of my daughter, everything to me, I mean literally everything, my whole world."
Concerning her daughter, on September 26, 2006, Smith publicly alleged that Stern was Dannielynn's father. The star's lawyer and confidante were named the little girl's father on her birth certificate but wasn't her biological one.
How Dannielynn Discovered Who Her Real Father Was?
After Smith's death, the question of whether Stern was Dannielynn's father came up. The attorney insisted that he and the late model were "confident" that he was the father because of when the little girl was born, adding:
"There really is no doubt in either of our minds."
However, another man, photographer Birkhead, came out claiming the little girl was his child. The entertainment reporter alleged that Smith had told him he was the child's biological father and had proof.
Smith's former boyfriend claimed he'd joined the late reality star at all her doctor's appointments while she was pregnant until they had a "minor disagreement." He fought for the child and even asked Stern for paternity tests.
In January 2015, Fox News revealed that Birkhead had once filed a lawsuit demanding Smith and the baby return to California for paternity testing before the model died. The filing occurred while the late star was still mourning the death of Daniel, her adult son.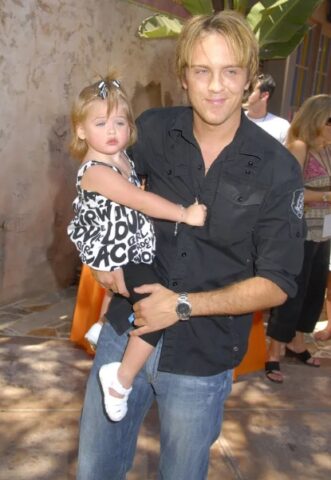 In April 2007, after Birkhead and Stern battled it out, the former was identified as the seven-month-old girl's father. A court in the Bahamas was able to get DNA tests done that proved who the child's biological father was, and he raised the little girl as a single parent.
How Does Larry Raise His Daughter Alone?
In May 2007, Birkhead arrived with his and Smith's child in Kentucky from the Bahamas. He told reporters that he was looking forward to introducing his daughter to his family and shared how good it felt to be home.
The photographer said he would show Dannielynn off to his Louisville family, relax, and play around. A week before their arrival in Kentucky, a Bahamas judge authorized him to take his daughter out of the country.
Smith's ex-boyfriend also received a new birth certificate in the Bahamas that listed him as the little girl's father. Stern's name was removed from the official documents after caring for Dannielynn in the Bahamas home he shared with her late mother.
In September 2017, the photographer shared with Entertainment Tonight how he was coping with raising Smith's daughter as a single parent. He said he and Dannielynn went out to a swim party, and he felt out of place because there were a bunch of mothers.
He thought he couldn't cope because the women were sitting and gossiping. His daughter came up to him and took his foot, slid it against the woman who was next to him, and demanded they get to know one another!
Birkhead thought it was cute when his daughter tried to get him out of the house to date and such. He also shared how Dannielynn didn't ask many questions about her late mother because people were always talking about the star.
However, he'd had some awkward moments, like explaining why her Wikipedia page said her last name was "Stern" when she was a baby. Luckily, the little girl accepted that she missed her mother the older she got.
It didn't mean she wasn't craving a motherly figure, though, as she would cling to her female teachers. Birkhead also revealed his daughter clung to her girlfriends' mothers and would ask them if they'd adopt her or be her honorary mothers.
The photographer recalled a day when his daughter's friend's fish had died, and the little girl consoled her, mentioning that the pet was with Smith. The little girl said her mother would take care of the fish.
Birkhead couldn't help but be proud of how his daughter dealt with not having a mother. He described her as a "good kid" whom he could laugh with and have great times while she wore him out.
The late model's ex also recalled when he and Dannielynn were on a roller coaster at an amusement park doing 200-foot drops while he held her. The little girl scolded him for holding her after asking him not to!
Birkhead realized he had to let her go so she could become her own person because he could only do so much. He couldn't help but marvel at how she sometimes handled things; by 2022, she was no longer a little girl.
What Does Anna's Daughter Look Like in 2022?
In a January 2020 interview, Birkhead opened up about his growing daughter. He hilariously revealed that she gave him "a lot of attitude" and would refuse to wear certain clothes or go to school!
Dannielynn was acting like a typical teenager, leaving her bed unmade and insisting she'd already done her homework! Birkhead explained that they were like everyone else, and with the documentary, "Hopelessly In Love," he wished to give fans insight into their lives while honoring Smith's memory.
The single parent shared that a typical day in their lives included him having his daughter's friends over, with him being the designated driver taking Dannielynn and company to amusement parks.
View this post on Instagram
He also said Dannielynn was fun and fearless like her late mother. In May 2022 on Instagram, he boasted about Smith's daughter, then 15, looking like the late model's "twin."
Birkhead noted how most of the year, Dannielynn sat around the house with no makeup and in sweatpants like any other teenager. However, one day she'd fix herself up, and he noticed:
"She's kind of like her mom. She's a chameleon."
The photographer noted that Dannielynn especially looked like her mom when wearing makeup, adding, "But she really, you know, kind of struck me as because she doesn't wear makeup a lot."
He [Larry Birkhead] also noted how his daughter [Dannielynn Hope Birkhead] wasn't alone on the special day as her mother [Anna Nicole Smith] looked down upon her.
On September 7, 2022, the father and daughter's Instagram account celebrated Dannielynn's 16th birthday. Birkhead included a collage of images of the teenager when she was younger and also with her late mother.
View this post on Instagram
He noted how his daughter turning 16 made him feel old and how the odds had been stacked against the child but probably geared more toward him than her. He shared how they'd survived turmoil, tragedy, and baby tantrums to see Dannielynn shine bright and be accomplished.
Smith's ex expressed his pride in being Dannielynn's father and that when he told the little girl she was a great baby at birth, she asked him how he knew because he wasn't there! He took it in stride and replied:
"Maybe not, but I have been there every day since I brought you home."
Birkhead confessed it had been a wild ride but that his daughter had also brought laughter and joy. He jokingly warned other drivers to stay off the local roads because his child was at the legal age to drive!
He concluded his post by wishing Dannielynn a happy day and urged her to "rock on." He also reminded her that she wasn't alone on her special day because her mother was looking down upon her.
Chances were that Smith would've been thrilled over her beautiful daughter's significant milestone. The late star probably would've also been grateful to the child's father for raising her well.