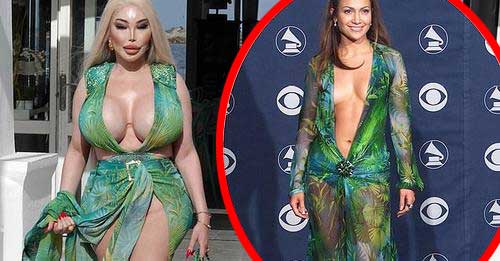 Jessica Alves brought Jennifer Lopez vibes to Ibiza on Sunday as she hit the scene in a provocative outfit.
The British-Brazilian reality personality looked stunning in her plunging green gown, which was a duplicate of Jennifer Lopez's notorious Versace gown from the 2000 Grammy Awards.
Jessica may not have been on the red carpet in her outfit, but that didn't stop her from striking her finest poses.
Jessica accessorized her lunch date in the Spanish sunlight with gold shoes, despite the flowing leaf-print fabric almost hiding her substantial endowments.
Jessica recently described her recent mental health issues after 'displacing' XXL bum implants, prompting this much-needed trip.
The TV screen queen has 2220 cc implants and believes that spending £1 million on over 100 surgeries is a worthwhile investment in her pleasure.
Jessica's butt implants, on the other hand, were 'displaced' when she stood up too quickly while still recuperating from surgery.
She was forced to spend Christmas and New Year's alone in an Istanbul hospital while having more surgery.
Ever since January, after having to spend Christmas and New Year's in the hospital after her butt implants shifted within her muscles, she has acquired anxiety and dread of being alone at home, as Jessica stated in an exclusive interview.
She felt the desire to go out in central London every Sunday, which led her to consume more beer and gain a few pounds, giving her a bloated appearance.
She wasn't okay; she was short-tempered and couldn't sleep well, and she had to admit that and do something about it.
View this post on Instagram
She grabbed her things and flew to Sao Paulo, Brazil, where her family resides and where she has a magnificent property, Jessica recounted. She then began an intense holistic treatment program that included Reiki and Ayahuasca indigenous tea therapy.
It really helped her, and now she is back in London feeling like a new woman, calmer and more invigorated.
She was depressed after having surgeries; it seemed like she was running a marathon that never finished, but now she can certify that she is done with cosmetic surgery.
Jessica stated she now feels a lot happier with herself. She is a lovely lady inside and out, with nice individuals around her and a fantastic family.
She is turning 40 shortly, and is extremely pleased to celebrate in Las Vegas with close pals.