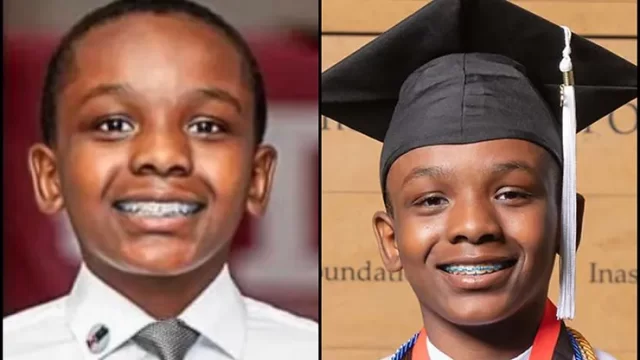 A 13-year-old boy has made history by graduating from Oklahoma City Community College (OCCC) with not one, but four associate degrees, a feat that has stunned many. Young prodigy Elijah Robinson has defied expectations and demonstrated his exceptional intelligence and commitment to academic excellence.
The voyage of Elijah is extraordinary. Born on March 10, 2010, he exhibited a remarkable propensity for learning from a very young age. Elijah, endowed with a brilliant intellect and an insatiable appetite for knowledge, excelled in his studies, exceeding expectations at every turn. His insatiable curiosity and desire for academic success compelled him to seek out intellectually stimulating opportunities.
Elijah's educational path lead him to enroll at OCCC while still enrolled in middle school. Determined to test his limits and accept new challenges, he eagerly enrolled in college-level courses alongside students who were significantly older than him. His dedication and ability to excel in these courses drew the attention of his professors, who recognized his extraordinary abilities and supported his educational pursuits.
Elijah completed the requirements for not just one, but four associate degrees thanks to his diligence, discipline, and unwavering determination. At such a young age, he earned degrees in general studies, arts, sciences, and applied sciences, a feat that is genuinely unprecedented. Elijah's ability to conquer a wide variety of subjects is evidence of his superior intelligence and dedication to academic excellence.
Elijah's accomplishment serves as an example to students of all ages that anything is possible with the proper support, determination, and appetite for knowledge. He has broken down barriers and defied conventional expectations, establishing a new benchmark for academic success. His achievements demonstrate that age is not a barrier to pursuing one's ambitions and pushing the limits of what is possible.
Elijah has been supported throughout his educational journey by his family, instructors, and mentors who recognized his extraordinary potential. They fostered his abilities by providing direction, encouragement, and opportunities for development. Their confidence in his abilities has unquestionably contributed significantly to his success, highlighting the significance of a supportive network in fostering the development of young minds.
Not only is Elijah's graduation from OCCC with four associate degrees a personal triumph, but it also exemplifies the opportunities and resources available to students today. It emphasizes the significance of educational institutions fostering an environment that nurtures and supports exceptional young minds, enabling them to flourish and realize their maximum potential.
As Elijah Robinson begins the next phase of his education, the possibilities are limitless. His achievements at such a young age attest to his intellect, perseverance, and unwavering dedication to academic excellence. The world eagerly anticipates his future accomplishments and the impact he will unquestionably have.
Congratulations on your historic achievement, Elijah Robinson! May his story encourage and inspire others to aspire for the stars, accept challenges, and pursue their passions with unwavering tenacity. This young scholar's future is unquestionably bright, and we eagerly anticipate the extraordinary achievements he will continue to achieve as he continues to leave his imprint on the world.